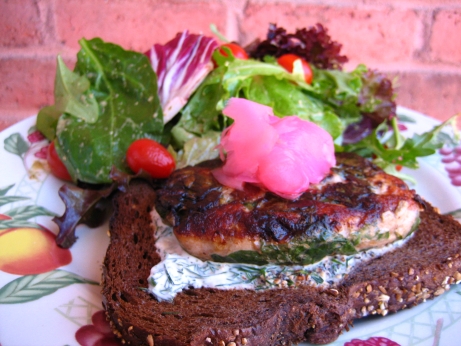 The recipe
I rarely make recipes from The Book for lunch, but this was an exception. I happened to be home, and to have a salmon fillet lingering in my fridge, so I decided to go for it. It wasn't the greatest thing I'd ever tasted, but it certainly wasn't bad. It's a simple burger made of diced salmon, spinach, scallions, ginger, salt, and pepper. It's held together with an egg white, and a dash of soy, then shaped into patties, fried crisp, and topped with pickled ginger. As you can see I happened to have some neon pink pickled ginger in the fridge, and I used it. It didn't look great, and it wasn't the best pickled ginger I've ever had, but this was lunch and I was alone, so who would ever know? I still had a bunch of the dill and crème fraîche mixture I used in the Rye Crispbread Crackers with Pepper-Dill Crème Fraîche and Smoked Salmon, so I added that and the burger to a slice of Russian bread and called it a meal.
The burger cooked up nicely, and developed a crispy crust. I often worry about fish burgers falling apart in the pan, but that was not an issue. The flavours were a bit aggressive. Salmon can stand up to intense sauces, but this was pretty much a ginger burger with salmon and spinach. It tasted quite nice, but not much like salmon. Unfortunately my kitchen still smelled like pan fried fish. I've also got to deduct points for the boring "let's make it Japanesque" flavours they've gone with. Ginger and soy are a great combination, but leaving that as the only flavouring in an Asianoid dish smacks of foreign food of the '50's. And not in that quaint kitschy way I love.
Overall the burgers were fine. Not particularly inspired, but totally edible and even enjoyable. I definitely don't think this should be the definitive salmon burger, or the only fish burger in The Book, but it's not bad at all. The nice thing about lunch is that it's held to a lower standard. This burger might have been a disappointment at supper time, but having a burger for lunch is a treat no matter how it tastes.