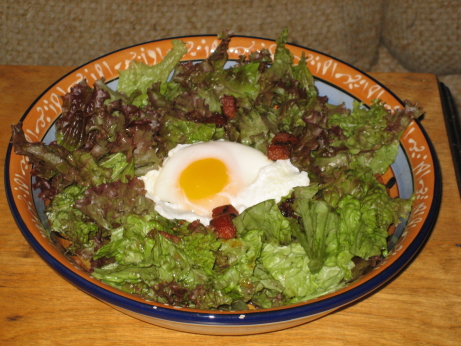 The recipe on Epicurious helpfully notes that frisée is curly French endive, The Book does not. I really don't know much about salad greens and this one stumped me. I thought it was the curly lettuce I picked up, but I was wrong. My dining companion is a salad impresario, she has an eye for composition, and a knack for combining the elements, and pairing them with the perfect dressing. I usually stick to the lettuce or other greens with balsamic and olive oil formula. It's not exciting, but it gets the job done.
In this salad slab bacon is cut into lardons, which are cooked up in a pan then put to the side. Shallots are then softened in the bacon drippings, and red wine vinegar is added to the pan (I'll remember to use a splatter screen the next time I follow that step), this hot dressing is then poured over the frisée to slightly wilt it. The salad is then topped with the lardons and a poached egg.
The recipe must have an error in it because it never actually mentions that you're supposed to top the final salad with lardons, but given that the lardons are in the title it would be pretty silly not to include them. Besides, lardons are one of the greatest culinary achievements of mankind. If I could only have one form of cured pork for the rest of my life, I'd choose bacon strips, but lardons are magnificent. They have the advantage of being French and fancy sounding, which makes it easier not to think about the cardiovascular consequences of eating them. The thicker cut also preserves their meaty porcine nature, which bacon can sometimes lose in favour of crispness.
I've been working on my egg poaching technique, and things are coming along to the point that I'm almost satisfied. I didn't add enough water to the pan for these eggs, so they stayed yellow on top, but I find that kind of attractive. I'd love to be able to produce the perfectly spherical poached eggs you get in restaurants, but for now I'm happy with the fact that the whites set, the yolks run, and the come out of the pan in one piece.
This salad was exceedingly good. I broke my egg and let the yolk run all over the greens. where it combined with the already rich bacon dripping based dressing. This is the kind of decadence I can't help but smile and make incoherent consonant sounds in response to. The vinegar and shallots were nice contrasting flavours. Eggs and bacon for breakfast have to to pair well with coffee and orange juice, so red wine vinegar doesn't play a big role on brunch menus, but it worked quite well here.
My uninformed choice of salad greens took away from the recipe a bit. Actual frisée is much crunchier than the soft lettuce I chose. The hot dressing wilted my salad in a less than appealing way, but with a sturdier green it would have worked very nicely indeed. Frisée is also more bitter and flavourful than curly lettuce, and might have stood up to the robust dressing a bit better. Oh well, it was delicious. I'll get it right next time.
Some of my favourite childhood memories are of my Mom coming home late, and deciding that we should have breakfast for dinner. She'd fry up some eggs and bacon and have three kids fed in under twenty minutes. It was always such a treat, and this recipe captured that special out-of-the-blue feeling.