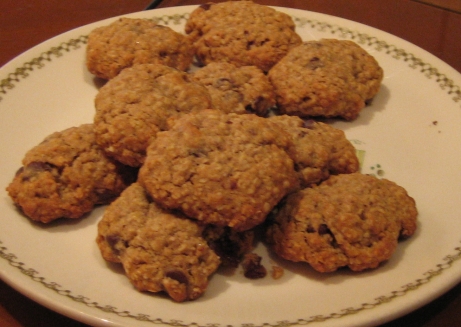 People are funny about baking. Not everyone, but probably a majority of people who "don't bake" would at least be willing to try their hand at making oatmeal cookies. When their 5 year olds help bake, they make cookies. These are the same people who will look at you funny if you tell them you're making biscotti, they think shortbread is too complicated, and are convinced that brownies and cakes only come from a box mix. It must be an issue of familiarity and comfort, but in reality making good cookies is often harder than any of those other baking projects. The skills are the same, sifting, creaming, beating, cracking eggs, the order is just a bit different. Cookies are notorious for burning, and cooking unevenly. Pans have got to be rotated, and racks switched. This is not to say that baking cookies is hard, just that there are many many baking projects which people won't try because they lack the confidence. Since everyone can bake a cookie, it's a chink in their armour, and a lead in to more unfamiliar projects. It's possible that all of these straw men I've set up know perfectly well that they could bake other things if they wanted to, but feel it's just too much effort. Fresh warm cookies are pretty much universally agreed to be worth working for.
These particular oatmeal cookies are fairly standard issue, a bit rough around the edges, but in a very satisfying way. These are about as casual as cookies get, standard butter cookies spiced up with rolled oats, cinnamon, vanilla, and brown sugar. Chocolate chips are given as an optional addition, so I stirred in half a cup. Sift the dry stuff together, cream the wet stuff together, then mix the two doing your best not to create gluten. Bake at 375 for 12 minutes, and contemplate just accepting the second degree burns to your mouth while you wait for them to cool.
If you've had an oatmeal cookie before you know what to expect with these. When I'm in the mood for an oatmeal cookie, familiarity is what I'm after though. They're miles better than the cracker crisp packaged ones, and the oily and inexplicably huge cafeteria cookies. The cinnamon and vanilla come through nicely, and the use of both white and brown sugar adds a bit of molasses depth. The rolled oats let you pretend they're healthy, but the added chocolate chips give away the lie. This is my standard go-to oatmeal cookie recipe, I probably make them four times a year, and I love them every singe time. Just make sure to have a glass of milk on hand.