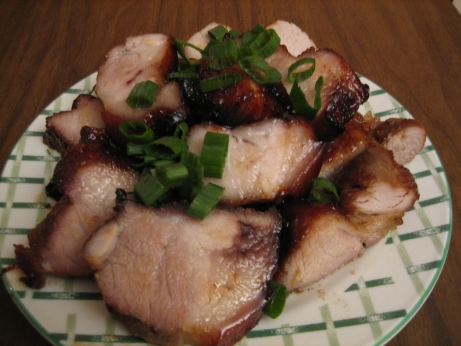 This recipe was a bit of effort, but boy was it worth it. The ingredients are simple and readily available, and they come together in the most delightful way with the judicious application of heat. The recipe calls for a 1 pound boneless pork butt or shoulder. I bought a whole picnic ham (from the shoulder, but with bones and skin left on), and had to figure out how to butcher it myself. I tried leaving the skin on to see if it would end up edible, it didn't, but no big loss. Score one for the scientific method.
In this recipe strips of pork are marinated in hoisin, soy, sake, honey, ginger, and garlic. The pork is then roasted on a rack in the oven over a pan of water. The marinade is cooked down, and used to baste the pork strips regularly throughout the cooking. It's really like painting on layers of flavour. The water keeps things moist, and the marinade caramelizes into sticky gold. As the layers of marinade build up the caramel colour deepens it starts to get really difficult to wait for it to be done.
Because so much effort is put into getting as much of the marinade as possible to stick to the pork it ends up being quite intensely flavored. Sweet, salty, and perfumed with garlic and ginger. It's meant to be one of many small dishes in a Chinese meal, and it's powerful enough that you can't eat too much of it. I absolutely loved it, but after about four slices I was finished. The recipe mentions that once made and frozen this pork becomes a valuable commodity, excellent for adding just a bit to a stir fry, or rice. I absolutely have to agree. I ended up with a good bit of leftovers, and I used it to full advantage. It was excellent in a cold sandwich, stirred into scrambled eggs, and as an ingredient in a stir fry from The Book.
Better than the dish itself was the thinking behind it. It's loaded with the innovation and creativity of limited resources. It takes an inexpensive and unloved part of the pig, and brings out it's best with some tenderizing and flavorful marinade. Then it goes to great lengths to use that marinade to best advantage. Better yet, the final dish makes a little meat go a long way. In a more reasonable food economy where meat is a valuable and limited resource a little bit of this pork could bring a lot of flavour to other dishes. You can probably get as much meat enjoyment from a little bit of this, as you would from eating a big steak.
Moving this dish in and out of the oven to baste it every few minutes was sticky and somewhat irritating work. I had to jurry rig a rack over pan system, and I came close to sending the pork for a swim in the water bath more than once. I didn't enjoy cleaning up the little dribbles of marinade that seemed to get cooked onto every available surface, but I absolutely enjoyed the dish. Since is freezes so well I'd suggest doubling the recipe and keeping more of this stuff on hand than you think you'll need.