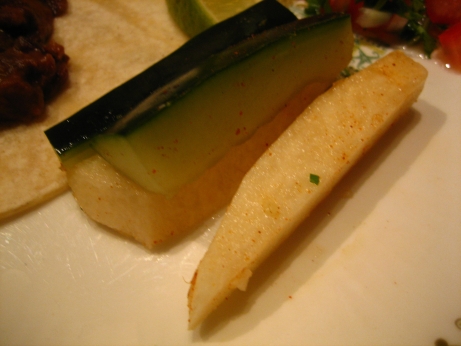 The recipe
Jicama isn't the easiest thing to find in Montreal. I went to every grocery store, fruiterie, and Latin themed shop I could think of. In the end I tracked one down at a Mexican grocery store about a block from my place. I had no idea it was there. For all the effort that went into finding it, I wasn't overly impressed. Jicama looks cool, kind of like a gigantic radish, but I didn't like the flavour much. It's a bit sweet, but also very raw potato starchy. It left me with an unpleasant tingling in the back of my throat and a slightly numb tongue. I've never had jicama before, and I don't know anything about it. Perhaps I ate it under-ripe? Or maybe that's just what jicama tastes like? My dining companion has tried it, and says she preferred it cut up into little matchsticks tossed into a salad. The big spears were a bit overwhelming. I remember Harold on the first season of Top Chef was obsessed with the stuff, so I was happy to try it, even if I don't see what he was going on about.
I find it hard to rate this recipe, because it's principal ingredient is so unfamiliar. Luckily this dish also included cucumber spears tossed in lime juice, chili powder, cayenne, and salt. I thought this treatment worked pretty well for the cucumber, and made them a fairly addictive little snack. It did little to improve the jicama in my mind.
I appreciate the simplicity of this dish, the lime, chili powder, cayenne, salt dressing packed a big flavorful punch, and the dish can be put together i well under 10 minutes. I think I'd put the cucumber spears out at a summer garden party, but I'd drop the jicama.