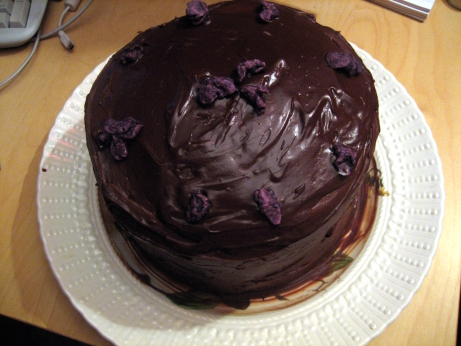 The recipe
As I mentioned yesterday I'm not a huge fan of icing on cakes. As a result, my icing skills suck. I'm far more likely to bake a cake, and sprinkle it with powdered sugar, or cocoa than make icing. If I do decide to top a cake, I prefer to use flavoured whipped cream. I'd probably only make two or three iced cakes before this one, and unfortunately it shows. I have a real incentive to get better, and get better quickly, though. A good friend has asked me to bake his wedding cake in August. That means I need to go on a crash course in icing, piping, and decorating. I'm planning on making one of the wedding cakes from the book for the event, and I'll have to do a couple of trial runs before the big day. I imagine this cake as the first humiliating defeat in a sports movie, after a musical montage I'll be churning out lovely confections, then I'll really dig deep, and defy expectations to turn out a picture perfect wedding cake.
This particular frosting is make with a mixture of mild and semisweet chocolates, sour cream, and vanilla. The chocolate is melted in a double boiler, and the sour cream and vanilla are whisked in.
The frosting starts out very liquidy, and sets up quite firmly. There's a narrow window when the icing is firm enough to stay on the cake, but soft enough to spread nicely. Since I'm not an experienced froster it took me approximately forever to get the layers covered, and to put on a crumb coating. I didn't know what a crumb coating was until I read the how to decorate a cake page next to this recipe (p.727). It's a smart idea, you put a thin layer of icing on the cake to seal in the crumbs before trying to do the pretty exterior layer. By the time I was ready to ice the cake for real, my frosting was setting up. I didn't really notice, and just started trying to get the frosting on the cake. It was chunky, thick and highly uncooperative. Then I read the little cook's note after the recipe which suggested just warming it on the double boiler again. This helped a lot, but I had to rewarm it several times over the course of my icing. All in all I did a pretty poor job, and it probably didn't have very much to do with the frosting itself.
There's a huge amount of technique in decorating a cake, and I just need more experience to get there. When I first started cooking, I was befuddled by people who could chop things quickly and easily, but I worked at it for a while, learned to hold my knife properly, and started using a rock-chop technique it became obvious. I'm hoping to master the offset spatula in the same way.
The frosting tasted just fine, but it really didn't move me. It was hardly sweet, which was a nice change from many other icings, but it was a bit too sour cream tangy. A few reviews of this icing suggest that using really top quality chocolate is important. I used perfectly good thank-you-very-much chocolate, but nothing crazy, maybe it would have made a difference.
I liked this frosting more than most, but mostly for the pitfalls it avoided. I found it a bit hard to work with, but if you're a quick icer the cooling and setting up problems I had might not be an issue. It got the job done, but I won't rush to make it again.