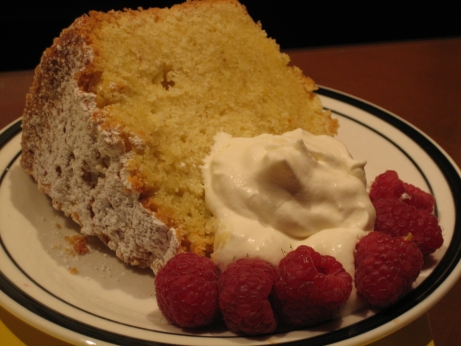 no recipe for this one.
I served substantial pieces of this pound cake following our Beef Wellington supper. If that sounds like a ridiculously rich follow-up to one of the heavier items of the British cookbook, you're absolutely right. I served both the cake and the Wellington to one of The Boys and his lady friend. The last time they had us over they tried to plumb the depths of the English butter first cooking philosophy. Their opening volley was rabbit braised in a butter sauce, and asparagus gently floating in a butter pond. When we had them over, what could we do but wrap meat in pastry, and try to get as much butter into a cake as is humanly possible? The next round of this escalating war on our arteries has been planned, and intercepted intelligence indicates he's got a duck wrapped in bacon, possibly stuffed with a rabbit ready to deploy.
This is quite a large cake, it fills a 10 inch tube pan and ends up about 6 inches tall. You really need a crowd to get through it, because as much as you might want to you'll only be able to eat a little. The traditional proportions for a pound cake are a pound of flour, a pound of butter, and a pound of sugar, hence the name. This recipe does indeed include a pound of butter, a bit more than a pound of cake flour (at 4.6 oz / sifted cup), and a pound and a half of sugar (at 8 oz / cup) add six eggs into the mix, and you've got an appropriate retort to the buttered rabbit. Those proportions should tell you what you need to know about this cake. It was decidedly buttery, and a bit too sweet. In this case the more than traditional sugar level had a very good reason. When they call this a ginger pound cake they're not fooling around. The recipe starts with 6 oz of grated fresh ginger, and they give explicit instructions about preserving every precious drop of ginger juice. Just to punch it up a bit they call for one and a half teaspoons of dried powdered ginger as well. The main flavour of the cake is not at all subtle.
Actually making the cake was very easy. I used my stand mixer, while the recipe calls for a hand mixer. There was a lot of creaming of butter and sugar to do, so I'd say go with the stand mixer if you have one. The method was straightforward, sift the dry stuff together, then cream the butter and sugar, stir in the ginger, and add the flour mixture and milk in alternating batches. This cake is already pretty dense, so building gluten would be a very bad thing. The recipe calls for cake flour, which is less prone to gluten formation, but it's quite important to mix the flour in slowly and as little as possible. The standard recipe phrase "mix until just combined" really means until it doesn't quite look combined and there are still some little chunks of flour, but it no longer looks like a swirled lollipop. The batter goes into a buttered and floured tube ban, and baked at 300 for up to an hour and a half.
The final cake was rich and dense, but managed to have a really excellent crumb. I was quite surprised by how good the texture was. Many pound cakes end up having a uniform, tiny, dense packed crumb. In this version there was a lot more texture, it gave the appearance of a much lighter cake, but had the mouth filling feel of the rich beast it truly is. The ginger in it's various forms came through loud an clear. The sweetness of the cake mellowed its spiciness, and recalled the heavenly balance of candied ginger (if anyone wants to get me a Christmas present, a box wouldn't go amiss). I served it with raspberries and whipped cream. The berries were a nice contrast, but honestly enough is enough with the dairy. I prefer a fruit coulis with a pound cake, but I guess with everything going on in this cake it would have been overkill.
I was really happy with the way this cake turned out. The texture was excellent, and the flavour was just what I'd hoped for. This cake would be best served at a function, or a pot-luck. You'll never get enough people around one table to eat it all.