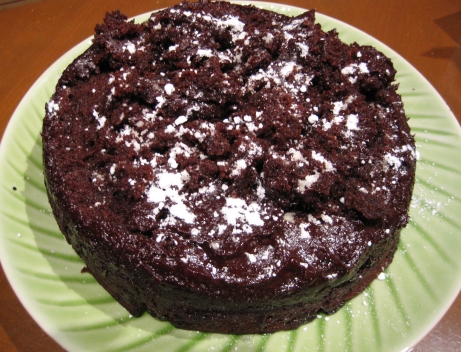 the recipe
I can't say that I pulled this off with the grace or style of Julia Child, I hope that I honored her commitment to salvaging disasters with this dish. The concept here is basically an upside down cake. The bottom of the pan has a chocolate pudding layer, and then a cake batter goes in on top. The Book says that "When the cake is inverted on the a cake plate a few minutes after it emerges from the oven, it is instantly bathed with a rich, creamy, oozy frosting."
My version did involve some oozing, but that was mostly cake batter spilling over the sides of my pan and onto the bottom of my oven, where it provided that smoky barbecue flavour that is so valued in fine pastry making. I think what ended up on the bottom of the oven was mostly the "pudding" part, and what was left mixed in with the top layer of cake. It came out as normal cake topped by extra moist yet somehow burnt cake. As the picture indicates it didn't come out of the pan without a fight either. But, I forged ahead, topped it with some powdered sugar and hoped for the best.
I can explain the bit of burning and setting of the pudding that occurred, because I baked this before I got an oven thermometer. I now know that the oven is always 25 degrees hotter than I think it is. However, the spillover is inexplicable. I used the right size pan, and it spilled over within the first 5 minutes of baking. I'd go with a 10 inch plate if I were to make it again.
The recipe calls for seedless raspberry jam. I couldn't find any anywhere, so I was reduced to running a jar of seeded jam through a fine mesh sieve. This was far more annoying than I ever would have expected.
I was pleasantly surprised when my guests and I set into it. The cake had a nice super-moist texture, and there was great chocolate-raspberry flavour. Unfortunately, like almost all deserts in the book, it was cloyingly sweet. My guests and my dining companion had nothing but good things to say about it, and when we talked about this cake yesterday she only remembered how delicious it was. I thought the book was just into sweet sweets, but it turns out other people are too.
Personally I wasn't a huge fan of the cake, it didn't work out anywhere near how I'd expected it to, and it left me with a lot of oven cleanup to do. However, it delighted my guests, and after all entertaining is about pleasing them and not yourself. I'll have to give this a higher rating than I think it deserves out of deference to the palates of my friends.