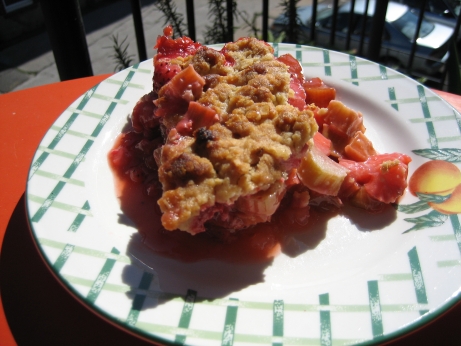 Sorry no recipe for this one
This was a very straightforward no surprises crumble. Incredibly easy to put together, and bursting with summer flavours. I grew up on this stuff. Mom was guaranteed to make a least a couple of these during the height of strawberry season, and we were usually good for one more in the fall with the strawberries she'd frozen.
I love the sweet-sour interplay of the strawberries and rhubarb. The balance between sweet and tart is the key to this dish. You absolutely have to add sugar or the rhubarb will make the whole thing sour, but too much and the magic is gone. Here I think they overdid it a bit on the sugar. They call for 1 – 1 1/4 cups of sugar for 2 lbs of strawberries and 1 1/2 lbs of rhubarb. I went for a cup of sugar as my berries were quite sweet, and the final dish was still more sugary than I would have preferred. I would definitely cut the sugar a bit and up the lemon juice. I've said it before, but the people at Gourmet really do like their desserts sweeter than I do.
I really enjoyed the simple rolled oats topping (just oats, flour, brown sugar, salt, and butter). It didn't come out as a very crumbly crumble, more of a big cookie on top of the fruit filling, but it was wonderfully moist and the oats gave it a nice texture to contrast with the fruit.
This was a delicious crumble, but almost all strawberry-rhubarb crumbles are delicious crumbles. This was a pretty standard recipe that didn't bring anything new to the table, or really decipher the formula which turns simple into deceptively simple. Excellent result, but an average recipe.