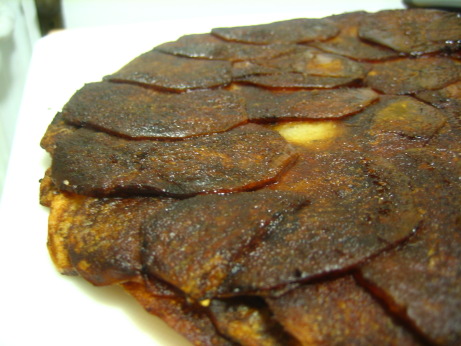 The recipe
This is a ridiculously simple dish, but I still managed to mess it up. It should have been the centerpiece of our meal, but thanks to me it was just an exercise in missed potential. There are only two real ingredients, potatoes and butter, seasoned with salt and pepper. You slice the potatoes on a mandolin as thinly as possible, soak the slices in cold water, then pat them dry. The slices are layered in a buttered ovenproof skillet, and the layers are drizzed with  melted butter, and seasoned. Once all the layers are down the potatoes are covered with a buttered foil disk for the first half of baking, and are uncovered for the final half. When they they're a gorgeous golden brown you take them out, invert the cake onto a serving dish and cut it into wedges.
The Good: I've had pommes anna before, and I can assure that they are very very good, anything wth 1 1/2 sticks of butter to 1 1/2 pounds of potatoes will necessarily be decadent. This is one of those dishes that you can't help but doing a Julia Child impression while assembling. If it's done right the potatoes are creamy with just the slightest bit of resistance left to them, it's almost a confit de pommes de terre. All of the exterior surfaces are browned and crisp like the best potato chip you've ever had. It's a truly decadent dish, and you can't help but smile when you eat it.
The Bad: My pommes anna were nothing like the ideal I just set out. I followed all the steps correctly, right up until the bit where you take them out of the oven once the're golden and crisp. I forgot about them for another twenty minutes to half an hour, and they had basically devolved into overcooked potato chips. There was enough butter there to keep it from actually burning, it just tasted very very deeply browned. You might say that potato chips made with butter have something going for them, and honestly it wasn't terrible, but it wasn't at all what the recipe was going for.
A huge part of this was my fault, but I was a little surprised at how thinly layered the potatoes were in the first place. The linked recipe calls for a nine inch pan, but The Book's version spreads the same amount of potato out in a 10 inch pan. Such a thin layer of potatoes is more susceptible to burning, and even at its intended non-dehydrated thickness there wouldn't have been enough delicious creamy centre to really satisfy me. Yes, the crunchy exterior is everyone's favorite part, but it's only special when it's in ballance with a fair bit of middle. In future I'd consider going even smaller, think 8 inches, to get a satisfyingly thick stack of potatoes.
The Verdict: It's hard to rate recipes when they're my failures and not the book's. The dish I produced wouldn't early more than a 2, but I think the recipe as written has the potential for greatness. I'm a vindictive guy, so I'm only going to give them a 3.5, but done right they might be a five.