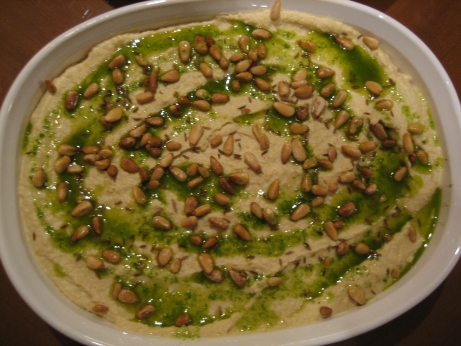 The recipe
I made this for one of The Boys going away parties. He'd just finished his Ph.D. and was heading off to a very fancy post doc in the states. I was throwing a party in his honor, and I wanted to make things he would like. I think I did alright in pleasing him, but I totally forgot that his girlfriend is allergic to garlic, and couldn't eat even one of the dishes I'd prepared. I apologized at the time, but I'll say it again. I'm sorry.
I love hummus as party food. It has all the virtues of a good crowd pleaser; it's intensely flavored, can be dipped with anything your heart desires, it neatly avoids almost all dietary restrictions, it's substantial, and it costs pennies to prepare. The only downside to hummus it that it's oatmeal like appearance doesn't make for the greatest visual impression. Here a very basic hummus recipe is given a face lift with a rather attractive topping of pine nuts, cumin seeds, and drizzled parsley oil. The nuts also add a nice texture and bursts of flavour, giving you a little something to look forward to in every bite. The vibrant green of the oil really set the dish off. That colour happens to have been attained with parsely. Maybe it's not so useless after all? That might be going too far.
I think this dish is being added to my repertoire of party standards. It's a way to take the ubiquitous bowl of hummus at college parties along with you into the adult world.