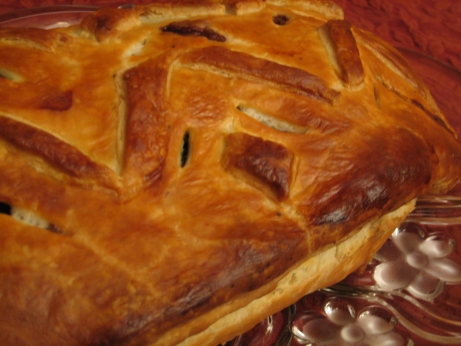 This is the crust for Twenty-First Century Beef Wellington. It's folded over a browned beef tenderloin, covered in Cilantro Walnut Filling, and baked. It's a very simple dough, made with flour, butter, sour cream and a dash of salt. It's brought together, then smeared to distribute the fat, and chilled for a couple of hours before rolling.
The dough was exceptionally strong before baking, it put up with a lot of folding, and pinching, and crimping, without tearing or stretching out too much. It rolled out easily, and stood up to the fillings during baking. Between the filling and the meat juices this dough was asked to encase a lot of liquid, and it did an admirable job. Not a drop leaked out, and the bottom of the crust remained crisp.
The final texture was flaky on the outside, and rich and moist on the inside. The sour cream gave it a bit of a bite, which I really appreciated. I was thoroughly impressed with how beautifully it browned up. The central problem of beef wellington is arranging things so that the pastry is nicely browned at the same time as the meat is medium rare. I took the wellington out when the beef was done, and just hoped for the best on the crust. As it happens I turned my back for a bit too long and ended up closer to medium than medium rare on the beef, but the crust was absolutely perfect.
The crust was probably my favorite part of the final wellington recipe. It tied the flavours of the meat and filling together, and had a wonderful crisp – tender texture. You could replace the tenderloin and filling with all sorts of things in this recipe. The dough would be great filled with vegetables, or fish. It would also be a delightful dough for a savory pie. Maybe I'll use it for a tourtiere at Christmas.