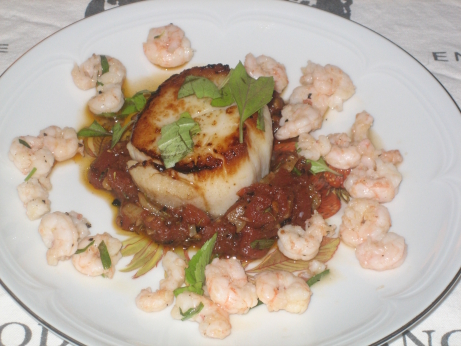 The recipe from Epicurious is similar to The Book's version, but only makes half as much.
I made these for my dining companion's parents, who came for a surprise visit. The last time I cooked for them the pyrex pan I had my gravy in exploded, so I was a bit nervous about this dinner. We decided on a scallop and shrimp first-course, and duck for the main-course.
I had a great time shopping for ingredients with them. My dining companion's father really enjoyed going to the cheesemonger's, the butcher's, the baker's, the fruit and vegetable stand, and the fishmonger's shops instead of a one stop mega-mart. It's one of the things I love about my neighborhood, but sometimes I take it for granted.
The scallops were a very nice way to start our meal, and it was an easy dish to put together. The scallops are simply seasoned with salt and pepper and then seared. Once the scallops are done a two-minute tomato sauce is brought together in the pan with garlic, thyme, and basil. The tiny shrimp in the photo were seared, the pan was deglazed with pernod, and finished with tarragon.
The scallops were magnificent. I got lucky and cooked them just right, with a tastily browned crust on the outside, and a just barely cooked centre. I've had difficultly with scallops before, particularly little ones, but these jumbo scallops were wonderfully easy to work with, and had and amazingly fresh and mild maritime flavour. I really dislike the metallic flavour scallops can sometimes have, but there wasn't a trace of that in this preparation. I was careful to rinse them thoroughly before cooking, which may have helped.
The sauce was nice, but nothing particularly special. My main complaint was that it was too oily. The scallops had a fairly subtle taste, and the tomato and garlic tended to overwhelm it a bit. I very much like shellfish tossed in a tomato based pasta sauce, where the flavours mix and mingle, but in this case I was really enjoying the clean flavour of the scallop all on its own. The thyme and particularly the basil enhanced the scallop's flavour without covering it up though. I ate most of the sauce with the little anise flavoured shrimp, which was wonderful combination. I think I might add a bit of pernod to my next pasta dish.
I thought this worked really well as a first course, it was a very pretty dish, and it really wasn't very much trouble to put together. Those gigantic scallops aren't inexpensive, but since you can get away with one per person as a first course, or two to three each as a main, they're not out of reach. I'd certainly make this again, but I might tone down the sauce a bit.