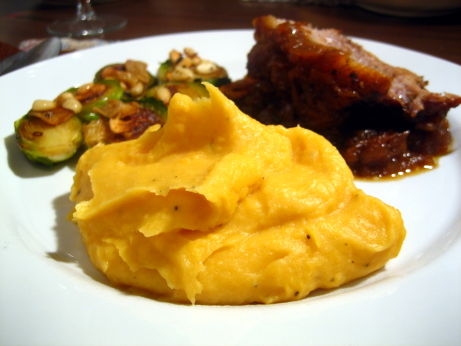 The recipe
This dish seemed like a winner, but ended up a real disappointment. I'm a fan of sweet potatoes, and I adore parsnips, so what could possibly go wrong? It's about a simple as a recipe can get, you just simmer chunks of sweet potato and parsnip 'till they're tender, and run them through the food processor with butter, milk, brown sugar, salt, and pepper.
Looking at the recipe I thought the brown sugar would bring out the essence of the sweet potato and highlight some of its deeper flavours. I didn't worry about extra sugar because the sharp turnipy bite of the parsnip would be there to pull the dish back from the saccharine edge. I couldn't have been more wrong. The already sweet enough thank-you-very-much potatoes ended up cloying. The parsnips added a hint of a counterpoint, but not nearly enough, they did lend prominent overtones of bark and wood chips though. The recipe called for light brown sugar, which didn't have enough molasses to do much for the flavour.
Probably the worst part of the recipe was the texture. The time in the food processor reduced this to a gummy coating paste. Every bite left me with the feeling of peanut butter glued to the roof of my mouth. I made the mistake of leaving some of the dishes for the morning, and the gunk in the food processor set up into a form of organic concrete. Add the weird, almost yellow, kinda orange, but definitely neon colour palate of this dish, and I was ready to be done with it.
I had half my portion on the night we made it, and tried to get through a bit more over the next couple days. Eventually I gave up and let it moulder in the fridge 'till I could throw it out in good conscience. Oddly, the Epicurious reviews for this recipe are fairly positive, so maybe I'm missing something. Mashed sweet potatoes are wonderful things, but from now on I'll roast my parsnips and serve them along side.