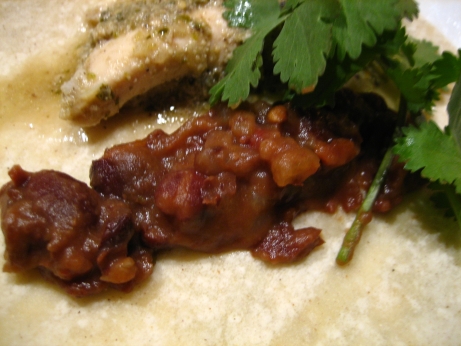 I was happy to find this recipe in The Book. I make my own version often enough because it requires no though, hardly any effort, and costs pennies per serving. I am not a great planner, and I rarely have the wherewithal to think through tomorrow's dinner and get beans soaking the night before. The Book is full of overnight soaks, chills, freezes, and rises, which is one of the challenges of this project for me. Thankfully this recipe involves absolutely none of that. It uses canned beans, which are probably my favorite kitchen shortcut of all time. Sure they're 15 times more expensive than soaking your own, but they still only cost 89 cents a can.
The ingredient list is all pantry staples, and the instructions pretty much come down to "simmer all the stuff together". First you soften an onion in a bit of olive oil, then add some chopped chipotle, two cans of beans, water, orange juice, and a bit of salt. Break down the beans a bit with a potato masher, and let it simmer 'till everything thickens up nicely.
This is pretty much exactly my version of the dish, I usually add beer instead of water, and I hadn't used the orange juice before. I like the dish mostly because I like the chipotles (I've written quite enough chipotle love poetry in the last few weeks, I'll spare you any more), the beans are an ideal vehicle for chipotle flavours, and pretty much every savory dish starts with sautéed onion, so why not this one? The orange juice was a really good addition the sweetness and mild acidity complimented the chipotles perfectly.
I used these beans as a burrito filling, but they'd be equally good as a stand alone supper if you mixed in some left over pork, maybe topped with a bit of cheese and popped under the broiler. This dish was easy, versatile, forgiving, economical, and delicious. It satisfies a craving for Mexican without spending hours in the kitchen. If you happen to live in a part of the world with a taqueria on every corner, by all means go there. But, for me finding decent Mexican is a challenge. On nights when that's just not a challenge I'm up for, this recipe is there for me.