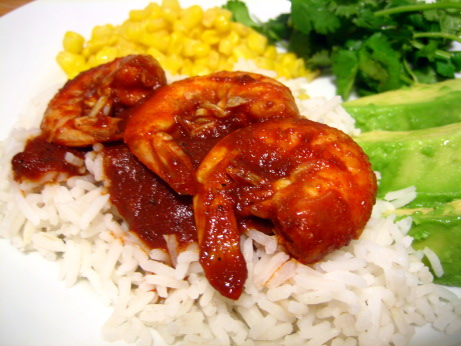 I can't find a recipe for this one online.
Anyone following The Project for any length of time knows that I have a bit of a smoked pepper fetish. I get a little weak in the knees when I see the words "ancho chiles" in a recipe. You start this recipe by searing and soaking anchos, then puréeing them with garlic, onion, oregano, and dash of water. The paste is then fried and thinned with white wine, white vinegar, sugar, and salt. It's simmered until it's quite thick, and shrimp are mixed in and cooked. You serve the dish with rice, avocados, and cilantro.
The Good: I'm a sucker for spicy seafood dishes, and this was a lovely way of doing it. It tasted like an actual Mexican dish, and very little like the pathetic excuse for Mexican food you can find in Montreal (with a very few exceptions). I'm an enormous fan of adobo sauces like this because they combine heat, smoky depth, acid, sweetness, and aromatics in one cohesive sauce. It hits all the buttons there are to hit, and leaves me very very satisfied.
The Bad: I'm getting pickier about my adobo sauces, and while this was generally good, I've had and made better. My main issue was that there was too much ancho flavour, without enough else to balance it. The smokiness of anchos is wonderful, but it can be overwhelming if it's too concentrated. I also object to the use of white vinegar, there's nothing wrong with it, but it's a missed opportunity, lemon or lime juice would have added another dimension, and white wine vinegar could have been a nice choice too. Similarly, white sugar is just fine, but honey, molasses, or brown sugar could have been more interesting.
While it's not in any way the recipe's fault, I decided to get clever and messed this dish up. It annoys me that most recipes call for peeling and deveining shrimp. The 21-25 shrimp called for in this recipe are small enough that eating the vein doesn't really bother me, getting rid of it is a nice touch, but it's not strictly necessary like it is with larger shrimp. What really kills me is getting rid of the shells. A huge amount of the flavour in shellfish is in their shells, and throwing it away is just no fun. I usually try to find a way to simmer the shells in some liquid going into the dish to boost the shrimp flavour. In this case I decided that my dining companion and I would just peel our shrimp after cooking. That was incredibly dumb, they were extremely messy, and we ended up losing a lot of the sauce along with the shells.
The Verdict: My love for all things in adobo continues, this wasn't my favourite example but it worked fairly well, and it's a good basis to start experimenting from. It took a little while, but no step was too frustrating. The final plate was lovely and colourful, and the cilantro and avocado were excellent compliments to the shrimp. I'll absolutely make dishes very much like this one again, but I don't think I'll be following this recipe letter for letter again.