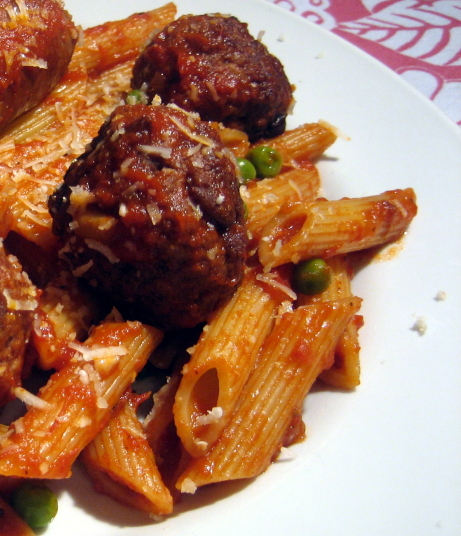 I can't find a recipe for these meatballs online, but I can't stand to think that the internet will go without it for another day.
3/4 cup fine fresh bread crumbs from Italian bread (crusts discarded)
1/4 cup whole milk
1/2 cup (2 3/4 oz) whole almonds with skin, toasted
1 1/2 teaspoons sugar
1 pound ground beef chuck
1/2 cup finely grated pecorino Romano or Parmigiano Reggiano
1/4 cup dried currants
1/4 cup pine nuts, lightly toasted
2 teaspoons salt
1/4 teaspoon ground cinnamon
1 large egg

Stir together bread crumbs and milk in a medium bowl.
Pulse almonds with sugar in a food processor until finely ground. Add to bread crumb mixture, along with remaining ingredients, and mix with your hands until just combined.
Roll mixture into 1-inch meatballs and transfer to a plate. Refrigerate if not cooking immediately.
These meatballs are a component of the Perciatelli with Sausage Ragù and Meatballs recipe I'll be writing up next. In that preparation they're browned in a pan, and then slowly simmered with a tomato sauce. I'm sure they would be excellent baked on their own, or as a component of any other recipe calling for meatballs. They are without a doubt the best meatballs I've ever had.
Everything about the recipe is spot on. The flavour was just perfect, there was something ethereal about the combination of the sweet cinnamon and currents with the beef and Parmigiano-Reggiano. The ground almonds grounded the flavour with an earthy body. They had a lovely fine grained texture, interspersed with chunks of pine nut and currant. They were delicate, but managed to hold together.
I'm going to Toronto with the boys this weekend, and I'm going head to head with one of them in a Sicilian meatball battle. He'll be using the recipe from The Bon Appétit Cookbook, and I'll go with this one. Whose cuisine will reign supreme? I like my chances, his recipe doesn't call for almonds or cinnamon, which really made the dish for me.
I've you've ever loved a meatball, you owe it to yourself to try these. I barely noticed the rest of my dinner with these on the plate.