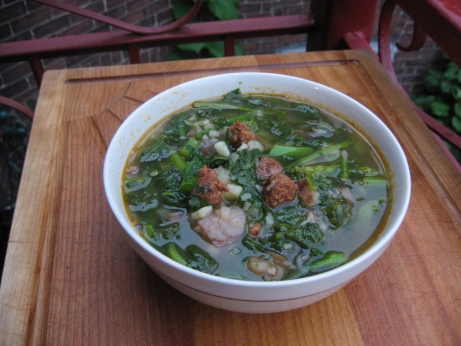 The recipe on epicurious calls this Tuscan kale soup. Tuscany and Portugal aren't next door to one another, and their food traditions aren't all that similar, but I'm willing to forgive The Book. In exchange I'll ask you to forgive me for not using kale at all. Normally my grocery store is overflowing with kale to be bought up by chic urban moms, who only wear clothes by designers who don't go past size four. This season's infatuation with the skinny jean must have caused a run on kale, and left none for me. I had my heart set on this soup, and decided I didn't feel bad at all about subbing in rapini. They're not particularly close cousins in the plant world, but they're both bitter greens, and both great in soup.
I still can't get over how delicious this soup was. There's absolutely nothing to it, you start by softening some onions in olive oil, then add sliced potatoes and cook for a few minutes. Water is added, and the potatoes are left to cook. Meanwhile the chorizo is browned up in a pan. When the potatoes are done they're mashed a bit, and the chorizo and "kale" are added in. It's left to cook for a few more minutes, and that's it. A huge amount of the flavour comes from the chorizo, so make sure to buy the good stuff.
Montreal has a thriving Portuguese community, and the chouriço sausage that is traditionally used in this dish is practically easier to find than the Spanish chorizo. I had to go out of my way to get the non-traditional ingredient, which The Book called for in an attempt to make my life easier. Sometimes this project is weird.
The flavours here were just perfect, with the rapini and sausage dominating. The spiciness and richness of the chorizo contrasted with the clean bitter flavours of the rapini. The potatoes thickened the soup and added a lovely earthy undertone. It was a very restrained dish, with clean individual flavours that just worked. I ate a gigantic bowl without stopping to breathe, and went back for seconds. I'm not normally a huge soup person, but I can't wait to make this one again.