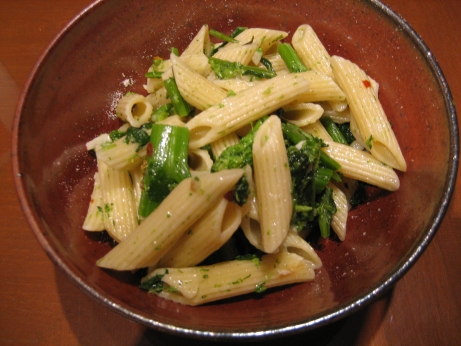 I can't find an Epicurious recipe for this one. If I had this might have been a 4.5 mushroom dish, but I can't bear not to share this simple flavourful Tuesday night supper with the world. Here it is.
2 pounds broccoli rabe
1 pound penne
1/3 cup extra virgin olive oil
4 garlic cloves, sliced
1/2 teaspoon red pepper flakes, or to taste
Salt

Accompaniment: finely grated Parmigiano-Reggiano

Trim and discard any yellow or coarse leaves and tough stem ends from broccoli rabe. Cut off florets and reserve. Cut stems and leaves crosswise into 1-inch-wide pieces. Wash stems, leaves, and florets and drain in a colander. Cook Broccoli rabe in a 6-quart pot of boiling salted water (1 tablespoon salt per every 4 quarts water) until stems are tender, about 5 minutes; drain.

Cook pasta in a large pot of boiling salted water until al dente.

Meanwhile, heat oil in a 12-inch heavy skillet over moderately low heat. Add garlic and red pepper flakes and cook, stirring until garlic is golden, about 1 minute. Add broccoli rabe and salt to taste, increase heat to moderately high, and cook, stirring occasionally, for 3 to 5 minutes.

Drain pasta and toss with broccoli rabe until well combined. Transfer to a bowl and serve with cheese.
Broccoli rabe is usually sold as rapini here. I don't think I'd ever tried it before I met my dining companion. She adores all bitter greens, but rapini is her special favourite. It looks quite a bit like leafy broccoli, and has a similar taste, but with a serious bite. Apparently it's a member of the turnip family, and some of that sharp flavour comes through. Rapini was definitely the vegetable find of 2006 for me. We eat it quite regularly, and I hope that I'm getting the touch. It's a bit tricky because it has tough fibrous stalks, and relatively more delicate leaves. The idea is to get the stalks tender, without overdoing the leaves. More than once I've stopped early (inedible stalks), or gone too far (nasty yellowish leaves, and a bit of a sulfurous funk). I think I've got the hang of it now, and the 5 minute mark set in this recipe is right on the money. The photo is proof that it came out a vibrant green, and I assure you that it was toothsome and not a bit mushy.
For a recipe I'm giving a 5 mushroom rating to, it's horribly written. It wasn't at all clear to me what I was supposed to do with the florrets that I'd reserved. Were they meant to go in to boil with the stalks? possibly. Perhaps then they are the broccoli rabe that goes into the pan with the garlic and oil? Would have been nice to specify it. Does that mean that the boiled stalks go into the pan as well as florets? Perhaps reserve the florets, meant reserve for another purpose. Who knows. Anyway, I boiled the stalks, cooked the garlic and red pepper flakes, then added the stalks to the garlic, cooked for a bit and tossed with the pasta. I forgot my little bowl of florets on the counter and they never made it into the dish at all.
I guess the recipe is pretty tolerant, and it is delicious. Do what you will with the florets, but do make this dish.