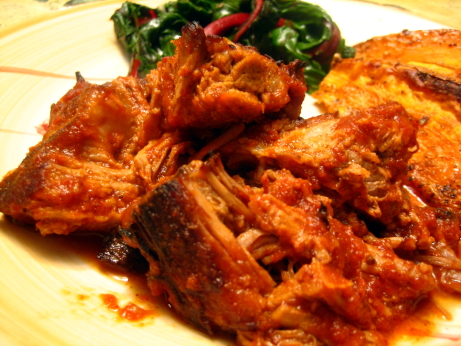 There's no recipe for this one on Epicurious.
This barbecue sauce is meant to accompany Lillie's North Carolina Chopped Barbecue, which we'll get to next time. It's apparently the style of barbecue sauce popular in Lillie's part of North Carolina, and is best served slathered over chopped pork barbecue. It probably works well on most grilled meats though. This sauce is unlike most of the barbecue sauces I've known. It's very vinegary, and fairly sweet, without a whole lot of heat, and not a lot of depth.
The recipe has a fair list of ingredients, but since you just stir them together and simmer for five minutes it's not too much trouble. You just combine tomato purée, cider vinegar, Worcestershire sauce, apple juice, pineapple juice, brown sugar, dry mustard, salt, chili powder, Tabasco, cayenne, celery seed, and cinnamon in a saucepan, simmer, and apply to the protein of your choice.
The recipe is really heavy on the vinegar, 3/4 of a cup compared to 1 cup of tomato purée. The rest of the ingredients are in tablespoons and teaspoons, so this ratio really sets the tone of the recipe. Cider vinegar is a little sweeter, and less acidic than many other vinegars, but that's still makes for a very sharply flavoured sauce. The recipe describes this as a particularly sweet sauce, but compared to the BBQ sauces available on grocery store shelves it's certainly not pushing the boundaries of sugar content. It's a sauce to be applied near the end of cooking, or over offset heat, it will burn quickly if exposed to direct flame, but it's by no means a candied glaze.
My main issue with this sauce was a lack of depth. The ingredients mostly contributed to sweetness, acidity, or heat, precious few give the sauce body, richness, or complexity. Specifically many of my favourite BBQ sauces have a slow simmered tomato base, or include smoked peppers, and more spices. The recipe is counting on Worcestershire sauce to cover most of those bases, and while it's a wonderful product, it just wasnt quite able to do the job on it's own.
This sauce was by no means bad, the identically named Tomato Barbecue Sauce, and Coffee Bourbon Barbecue Sacues on page 898 seem much more promising. I made a hybrid of those two recipes a couple of weeks ago to great results. If lots of vinegar, moderate sugar, and modest heat is your ideal BBQ sauce, then this is a perfectly decent way to go. It's just not my personal preference.