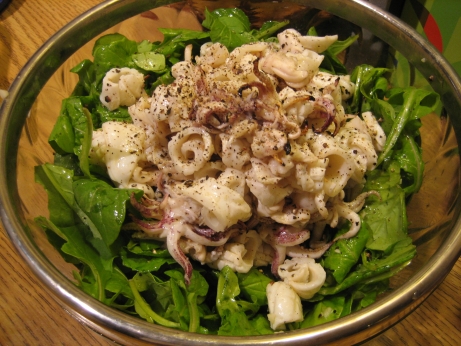 The recipe
This dish was fun to prepare, fun to serve, and fun to eat. I served it at a friend's place for a pot-luck. Bringing a bunch of squid over to someone's house might seem a bit weird, but it worked out really well.
I broke the squid down and scored the tubes at home. Incidentally many of the "cleaned" squid I bought still had pens and beaks attacked, or lost up inside them. I always though the backbone was called a cuttle in both squid and cuttlefish, but apparently I'm wrong. I'll call it a pen from now on. Anyway, I arrived at the party with a Tupperware container of squid bodies, one full of tentacles and fins, and a little jar of a simple vinaigrette of lemon juice, olive oil, garlic, salt and pepper. Then I stowed everything in the fridge till it was time to cook.
Ten minutes before we were ready to eat I covered the squid in some of the vinaigrette and left it on the counter to marinade. The grill was nice and hot from cooking up some other meats and veg being served that night. While everything else was resting, I literally threw the squid sections onto the grill. I tried delicate placement for the first few, but lobbing them seemed to work better so I went with it.
I love watching squid cook. After just a few seconds on the heat it changes shape and colour radically. It goes white, tries to curl, and shrinks by more than half its size. I made sure to put the scored inner sections of the tubes down first. The squid wants to curl in that directions, so I let gravity help me stop it. After about 45 seconds I gave them a flip, and fought a good deal of sticking. Once it was done I took it back inside, tossed it with more vinaigrette, and put it on top of a very simple arugula salad, dressed with more of the vinaigrette. I added a few twists of black pepper, and an extra squeeze of lemon juice, then we were ready to eat.
The salad was quite good, the arugula really helped this dish make sense. The calamari were tasty on their own, they had a nice texture, not too chewy, but definitely squiddy. They had a mild flavour, mostly just that general "of the ocean" scent, with most of the flavour coming from the vinaigrette. The arugula really made the dish by contrasting and counterpointing the squid. The peppery, crisp, cool, and crunchy versus, the chewy, warm, and coastal was a great combination. I wasn't nuts about the dressing, it could have used more lemon and more salt. I rarely accuse The Book of under-salting, but I felt more salt would have helped bring out the very subtle flavours of the squid.
This recipe was another example of The Books collusion with the wooden skewer industry. I'm not sure if they're all Freemasons, or part of the Illuminati, but The Book is in love with skewering things to be grilled. It recommends skewering the tubes on both sides to help prevent curling, and making flipping easier. I tried it, it was an enormous pain to get them organized on the skewers, so I just gave up after the first couple. Placing the squid segments down on the grill worked just fine, and I have better uses for my time than threading squid bodies onto sticks.
If I were to do this one again I think I'd add the marinade to the squid segments a couple of hours in advance. It seems to me that adding the lemon juice early would denature some of the proteins, and turn it into a simple ceviche. The squid would shrink up and be easier to fit on the grill, and more of the flavour would penetrate. I'm not sure if that would cause the squid to get tough, but it's certainly worth the experiment to find out.
I was quite happy with the way this turned out. A bunch of the people at our party had never tried squid without it being breaded and fried, and some were a bit squeamish about it, but most were willing to give it a go. I had a great time watching first time squidders experience that unique squid texture. I think it went down pretty well with the party crowd, and I was happy with the way it turned out. It was simple enough to prepare, and didn't send me across town looking for wacky ingredients. Squid is conveniently dirt cheap, and great for serving to a big group, and it made a good conversation piece. The quick marinade didn't really get into the squid enough, and the dressing was a bit boring, but otherwise it was quite a lovely dish.