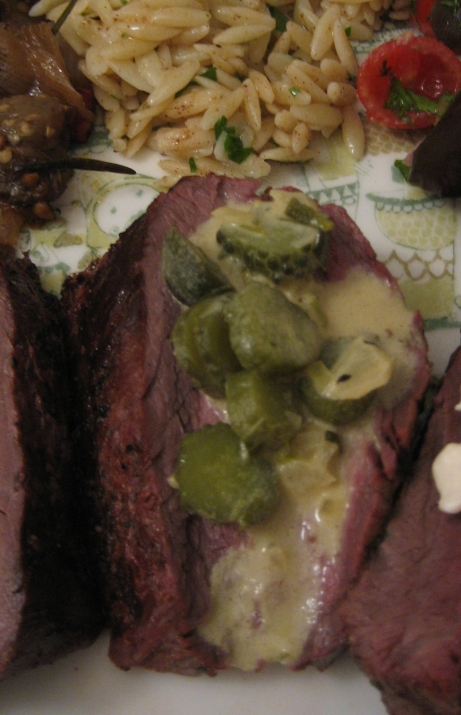 The recipe
Some good friends were coming to dinner, and I wanted to make something a bit special. When I'm looking for dishes suitable for an occasion, beef tenderloin is frequently at the top of that list. I had frozen part of the tenderloin I used for the Twenty-First-Century Beef Wellington so it was an easy choice to make. I decided to serve the roast tenderloin with three sauces, the cornichon tarragon sauce from this recipe, a Stilton sauce, and whipped horseradish cream. This sort of a menu seems much more appropriate to the fall weather I'm writing this in, than the summer weather I cooked it in. However, it was a pleasantly warm day, and I made one important change to the recipe. I grilled my tenderloin outside instead of sticking it in a 350 degree oven. The sauces were a bit rich for summer, but that just encouraged restraint.
The sauce is made by reducing white wine, shallots and tarragon, then adding cream, thinly sliced cornichons, and a mixture of mustard whipped with butter. This was a seriously powerful sauce. The mustard, tarragon, and shallot flavours were fairly strong on their own, but the cornichons were overpowering. I picked up good quality, imported sour gherkins from France. They were mouth puckeringly sour, without too much other flavour. They were nicely crunchy, but not really my favourite pickle style. The recipe calls for a lot of these little guys, and their concentrated vinegar permeated the whole sauce. My first impression of the sauce wasn't great, just too sour, and overpowering the somewhat subtle flavours of the tenderloin. As I ate more it grew on me though. Once I stopped making a sourpuss face the underlying flavours came out, and they were good. The sauce also mellowed over the next day, and ended up being in a better balance.
I'm not sure if this is how the recipe was intended to turn out, or I just got a batch of very sour pickles. I think it's possible I did everything right, because my dining companion preferred this sauce to the other two choices. She agreed that it was sour, but she enjoyed the interplay of the rich creaminess, with the clear vinegar cutting across it. I won't rush to repeat this one, and if I did I'd try a different brand of pickle, or cut back on them. This sauce had to struggle to get over a bad first impression, but it did redeem itself after a few bites.