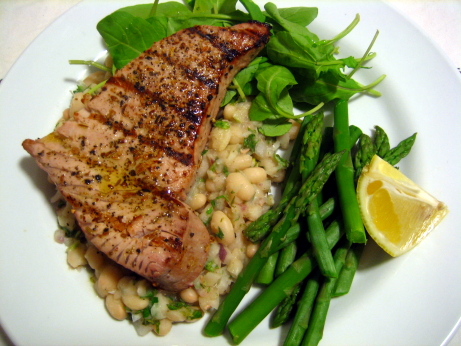 The recipe in the book is similar to this one on Epicurious, except that the book calls for larger (6 oz) tuna steaks.
This dish was a triumph. As I've mentioned before my dining companion isn't a fan of fish, and the book has 95 Fish and Shellfish recipes for us to get through. While she's open to trying new things, and always tells me she'll try whatever I make, I want to make her happy, so I've been staying away from fish when she's around for supper. I decided that barely seared tuna would probably be an easy way for her to dip a toe into fishy waters without being overwhelmed. We'll work our way up to mackerel and cod, but this was a successful baby step.
The dish has two components, grilled tuna steaks seasoned with lemon juice, olive oil, crushed fennel seeds, salt, and pepper, and a bean salad. The salad is made with soaked great northern beans, which are simmered with garlic for an hour. Some of the beans are mashed and combined with the beans' cooking liquid to hold the salad together, fresh garlic is added in, along with chopped arugula, onion, parsley, lemon juice, olive oil, salt and pepper. The tuna is served on top of the beans, and some of the remaining arugula.
I was really happy with this dish, it was simple, clean, and very tasty. Mostly I was happy that my dining companion was happy though. Our grill heats quite unevenly, so some parts of the tuna steaks were more done than I would have liked. My dining companion liked the barely cooked parts of the tuna, but found the overdone bits too fishy for her taste. I thought the fennel worked exceptionally well with the tuna, and I'd absolutely grill steaks like this again. I'd probably try to sear the steaks over an extremely hot flame for just a couple of minutes though, if you're using high quality tuna, and paying high quality tuna prices, getting a seared exterior, and a barely warm interior is important. The bean salad wasn't as successful, but not bad at all. The beans needed more garlic, and more salt or lemon juice, they were a little on the bland side. The texture was nice, with just barely firm beans, in a thick sauce. The decision to put chopped arugula into a warm dish is mystifying though. Arugula's claim to fame is it's peppery crisp flavour, and that completely disappears the second you heat it. A few of the Epicurious comments suggest that the dish would be better with spinach, and I'm inclined to agree.
I thought this was a really nice dish, it came together easily, tasted good, and managed to do it without dousing everything in cream and butter. It's the kind of dish that begs to be eaten outside on a beautiful spring day with people you really like. I'll always remember this dish as the first time my dining companion ate and enjoyed fish for dinner.