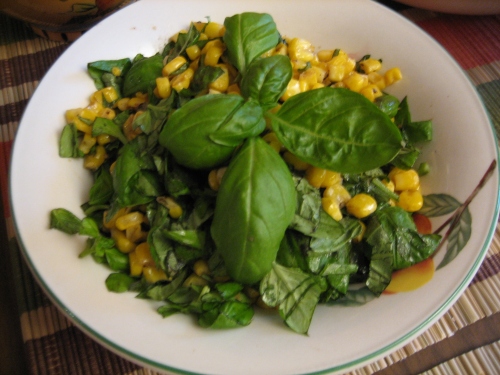 Again, no recipe for you today but this side dish is so easy you really don't need one. I browned butter in a heavy bottomed pan, and added corn kernels, salt, and pepper. When the kernels were tender (around 4-5 minutes) I stirred in some torn basil leaves.
I think the proportions were a bit off in this one. The book recommends 2 TBS of butter, 3 cups of corn, and 1 cup of basil. I would cut the butter and basil in half. Both added really nice flavours, but the extra butter just wasn't really necessary. The problem with the basil was too much flavour, it started to overpower the corn a bit. I'd also be careful about shredding the basil very finely, as it was I got a lot stuck in my teeth.
Despite my criticisms I thought this was pretty good; fresh and summery. I think the browned butter was a great idea, it added a much appreciated layer of nuttiness to the dish which contrasted nicely with the sweetness of the corn.