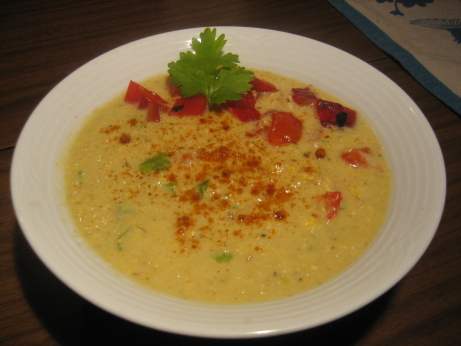 There's no online recipe for this one.
I just don't know about summertime soups. The Book has dozens of cold soups based on fresh sweet fruit and vegetables. I can't say that they appeal to me very much. In part it's the dissonance of cold soup that bugs me, but I'm not even a huge fan of hot soups. When I ask myself what I feel like eating, the answer is almost never soup, especially not in August. For a cold soup, this was fine, but I won't go out of my way to make it again.
You start by sweating garlic, onion, jalapeños, carrot, and celery with cumin, coriander, salt and pepper. Then stock, water, and both corn kernels and cobs are added and simmered. The cobs are discarded, and the soup is puréed in the blender. Once the soup has cooled to room temperature, some whole cooked corn kernels are stirred in along with roasted red bell peppers, cilantro, and cayenne.
A significant amount of effort went into building flavours for this soup, and they were well balanced and subtle, but they faded to the background almost instantly. I picked up the ingredients for this recipe a few days before I got around to making it, and by then the dew-kissed market-fresh corn I'd chosen wasn't looking as lively as I would have liked. If I'd had really stellar corn maybe the other flavourings' camouflage act would have been a positive, and I'd be going on about them not getting in the way of the corn ambrosia. As it was my corn could have used a bit of help.
I had leftovers of this soup for a few days, and it was much better on day three than in the beginning. A footnote to the recipe suggests that you can make it up to a day in advance, but I'd ignore that and give it at least two days to come together. We at this soup as our main course with a chunk of baguette and a simple salad. The soup just wasn't interesting enough to anchor a meal. It might work as a first course, or better yet as an appetizer soup shooter. Those first couple of bites were good, so why not just stop there?
There wasn't anything spectacular about the soup, but it wasn't bad either. I used all the leftovers for lunches, instead of letting it moulder in the back of the fridge. It was solidly average. If I made it again I'd add more jalapeño and less cayenne. More of the jalapeño's fruity complexity would have been welcome, instead of the straightforward cayenne heat. Stirring in a bit of sriracha chili sauce on day two or three improved matters.
Every summer I feel guilty about not eating enough amazing Quebec corn, especially when you can get a dozen ears for a dollar. Making corn soup seems like a great way to use up that summer bounty when you can't face another ear of corn on the cob. Unfortunately I forget that I'm replacing the problem of the twelve ears of corn staring at me from the vegetable drawer, with five liters of left-over soup.