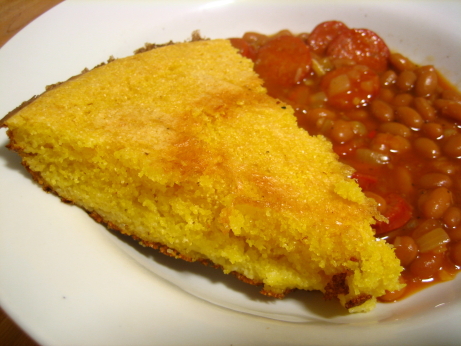 The recipe in The Book is identical to this one on Epicurious, but The Book adds a tablespoon of sugar to the corn bread.
The desire to make corn bread comes in waves for me. Six months will go by, and I won't even think of it, then I'll get the urge, and make it three times in a week. I like to play with my recipes, and improvise. The first batch of the week is usually pretty straightforward, in a baking pan, hardly sweet, good with gravy. Then I get stupid and try putting things that shouldn't go into corn bread into my recipe. I've never once liked the cheese or sausage corn bread I've made, and I don't particularly like corn bread muffins, I should just learn my lesson. I make the third batch to redeem myself. By this point I've remembered how much I like leftover corn bread for breakfast, and that I really like it warmed for a few seconds in the microwave, with a bit of butter, and a drizzle of maple syrup. I substitute maple syrup for the sugar in the recipe, and add a bit of extra butter directly to the batter for the week's final batch, and I am usually well pleased. By the time we've finished that pan, I'm so ODed on corn bread that I can't look at it for another few months.
This recipe takes the unusual step of omitting the flour that's in most corn bread recipes, it's all cornmeal. That makes the bread more coarse and granular, and less cake-like. The nice thing about corn bread is that it's fairly idiot-proof. You just whisk together the dry ingredients, gently stir in the wet ingredients until it's barely combined, and bake. This bread is baked in a preheated cast iron pan, and the butter that goes into the bread is melted in the pan first, this leaves you with a browned butter coating in the pan, which tastes nice, and helps keep the bread from sticking. The recipe uses the muffin method, of barely combining the wet and dry ingredients, which is usually done to prevent gluten from forming, and making a baked good tough. In this case there's no flour, so I can't see why you shouldn't beat the tar out of it.
This was perfectly fine corn bread, I liked the cast iron skillet method which created a very nice deeply browned crust. This was a dryer style of corn bread than I prefer, and even with the tablespoon of sugar, I would have liked a bit more sweetness. I found it a bit crumbly, and missed the soft texture of a flour based corn bread. There was absolutely nothing wrong with it, and it's probably somebody's favourite style. As a recipe I think it worked quite well, I just wasn't totally on board with what it was trying to do.