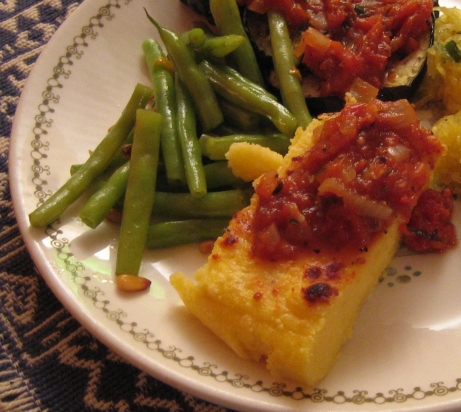 This recipe uses The Book's Basic Polenta recipe as it's main ingredient. The basic polenta is a great no-fail staple recipe. Here it's dressed up by stirring in some cheese, putting it under the broiler, and topping with a very simple tomato sauce.
I served this as part of a vegetarian dinner. It was nicely substantial, and made a good centerpiece for my menu. Very often polenta is served straight from the pot, so that it's thick but still runny, which highlights the risotto like creamless creaminess. Here the polenta is poured into a baking dish and allowed to cool and set up before it goes under the broiler. This gives it a completely different texture, it ends up gelled and reminiscent of a rice or bread pudding. In this application it seems much more substantial, which is a better base for a sauce. Putting a sauce on a custardy plate of fresh polenta might be a little unidimensional on the texture front.
The recipe calls for fontina to be stirred into the hot polenta. I don't think I've ever used or tasted fontina, and I didn't use it here. I substituted a mixture of mozzarella and cheddar, and called it good enough. It browned up nicely, and melted seamlessly into the polenta, so it seems like a fair substitution to me.
The tomato sauce was extremely simple, perhaps too simple. The sauce is nothing but softened onions, a bit of garlic, a can of tomatoes, salt, pepper, and a pointless dash of parsley. I'm writing this in August when the local tomato crop is at it's peak, and it seems like the less you do to them the better everything ends up. I made this sauce in April, using canned tomatoes, when charms of a minimalist sauce aren't quite as beguiling. I've got nothing against canned tomatoes, they're much more flavorful than the mealy, flavourless, perfectly red, imported California tomatoes we get in April. But, they can't compare to the hight of summer's flavour. If you're going to do a slow cooked sauce based on canned tomatoes I think a bit of flavouring is important. I would definitely have added a bay leaf to the sauce, and thyme or oregano wouldn't have hurt anything at all, a splash of vodka would bring out those flavourful alcohol soluble compounds in the tomatoes, and a hint of fire from a chile or red pepper flakes wouldn't have been unwelcome. Once the sauce was finished I tasted it and stirred in some fresh rosemary, which really improved things.
This dish was fine, but a better concept than execution. It started with a really excellent polenta base, but didn't do enough to it. The addition of cheese and time under the broiler added great flavour and texture, but the lackluster sauce was at best a missed opportunity, and at worst dragged the dish down. There's a huge amount of room to play and experiment with a dish like this. It's rare that I accuse The Book of being too simple, or lacking in obscure ingredients, but this is one of those times.