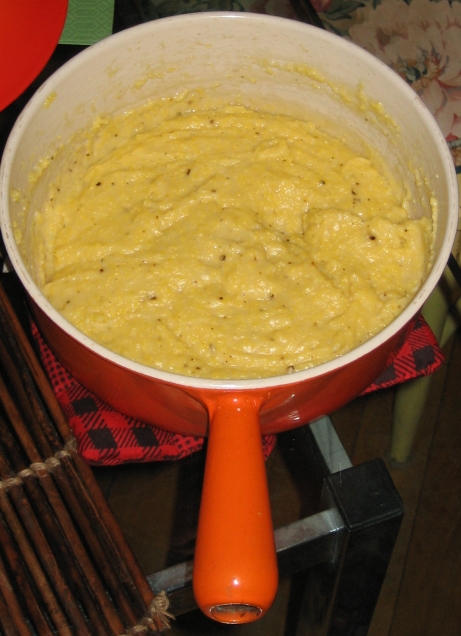 The linked recipe differs from The Books version in the cooking directions. The linked version would have us standing there stirring the polenta for 40 minutes, which is enough to get me to give up on polenta forever. Fortunately The Book's version is kinder, we're only asked to stir 1 minute out of every 10 for 40 minutes, leaving it covered when it's not being stirred.
This isn't the flashiest polenta in the world, but as the title implies it's a very solid basic. Restaurant polenta (and grits for that matter) are often an excuse to hide half a pound of butter and a giant brick of parmigiano-reggiano in an unassuming package. All that's in this basic version is water, cornmeal, and salt. As you might expect the earthy corn flavour is prominent. It's not as delicious as the dressed up versions, but your waistline will thank you. Because there's so little in there it's also very neutrally flavoured, and makes an excellent base for sauces and gravies. I recently served braised chipotle pork-hocks on a bed of this polenta, and I couldn't have asked for a better combination.
The most important thing about a "basic" recipe is that it work flawlessly. This is a rock solid method. I've made whole batches, half batches, and quarter batches, without changing the method at all. It comes out perfectly every time, and making it doesn't take up too much of mine.