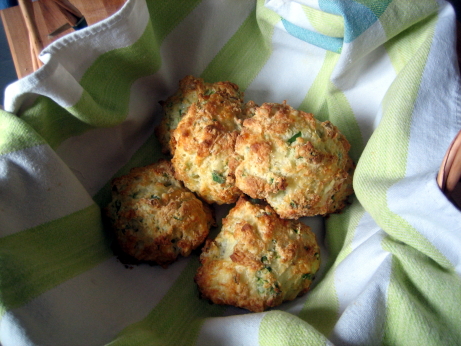 The Boys were over for breakfast, and I decided to make them biscuits. One of them has been living down in the Carolinas for the last few years, and has become something of a biscuit connoisseur, so I didn't dare try a traditional buttermilk biscuit. These are far simpler, and less error prone. It's a basic biscuit dough (flour, baking powder, baking soda, salt, butter, buttermilk) with a bit of sugar, cheddar cheese and scallions mixed in. These aren't kneaded or shaped which when done wrong can toughen the biscuits, they're not cut out so there's no risk of collapsing the flaky layers, and there aren't twenty generations of ancestors looking over your shoulder to make sure you do it exactly right. You just blend butter into the dry ingredients, stir in the cheese and scallions, and barely mix in the buttermilk (gluten is still your enemy). The biscuits get unceremoniously dropped onto a baking sheet, and stuck in the oven.
As Epicurious posters have noted, the cooking time is off, at 450 these will be burned after the recommended 18-20 minutes, I started smelling a hint of char from the bottoms after 14-15 mintues. so don't get too far from the oven, and use your nose.
They tasted a lot like the biscuits at Red Lobster. I don't think I've been to a Red Lobster since 1998, but the taste of their biscuits is stuck in my food memory. They're less over the top greasy (which unfortunately means not quite as good), in fact they're a little dry. A bunch of the Epicurious posters recommended adding more buttermilk, and I think I'd go with that suggestion next time. The cheese flavour is prominent in these biscuits, I used some middle of the road aged cheddar, but I'd definitely choose the oldest sharpest stuff I could get my hands on next time, the cheese is the make or break ingredient, so choose it wisely. I really liked the addition of scallions, the onion flavour wasn't overwhelming, or un-breakfasty, just delicious. The exteriors of these biscuits were glossy and crispy, and while the insides were a bit dry once they'd cooled, they were lovely and tender when warm. The solution is obviously never to let these cool down.
These biscuits were a success, they're fairly idiot proof, so I can handle making them before the espresso machine has heated up. The ingredients are mostly things you'll have on hand (or maybe normal people don't absolutely always have scallions in the fridge, but that's just semantics), they taste good, and look pretty. While the recipe has a few problems, with a couple modification I think they could be a breakfast standby.