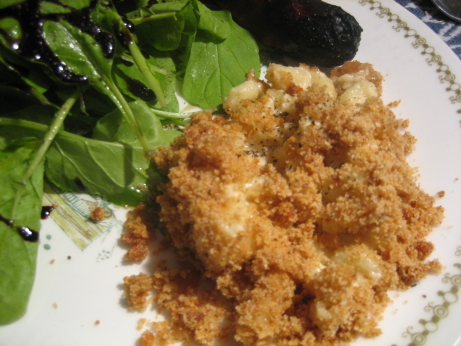 The recipe
I haven't eaten all that much macaroni and cheese since I graduated to shoes with laces, but most of the kids I knew, and the stoners they grew up to be, loved the stuff from the box. As a child, macaroni and cheese was just the brand neutral way of saying your mom was making Kraft Dinner. I decided that KD was not for me around age 5, and looked for creative ways to avoid it, or mask its flavour. For reference, cut up hot dogs made it better, ketchup made it worse. Unfortunately kids in Montreal ate a lot of KD in the '80s. My mom accepted my quirks and stopped serving it to me, but I still ate a lot of it at friends houses.
I was well pleased to leave mac and cheese behind me by the time I reached high school, and it stayed that way 'till a a nice Southern girl introduced me to the home made version in my early 20's. Her macaroni and cheese was an entirely different animal, using real cheese, building flavour and texture with a roux, adding a touch of heat, and baking the whole thing with some extra cheese on top. I came around, and macaroni and cheese became something worth looking forward to.
I started experimenting with my own versions of mac and cheese, without much success. The problem I was trying to solve was that M&C is inherently rich, bland, and straightforward. Some people interpret that as a food surrogate for mother's love, but I find it a bit dull. I tried adding herbs to the M&C, which fubared it, adding more chili flakes didn't help either. One version with chipotles was actually pretty good, and worth revisiting sometime. Drawing on my childhood hot dog experience, I tried adding some slices of merguez, which worked quite well. These experiments brought me closer to what I was looking for, but they were still lacking. I was happy to discover that Gourmet has hit upon secret elixir that cuts the richness, and ties everything together, Dijon mustard. The Book's version isn't perfect, but I'm immensely grateful to it for bringing me closer to the ultimate macaroni and cheese recipe.
In this version, you make a three minute roux with butter, flour, and red pepper flakes, then whisk in milk and bring the sauce to a boil. After letting it boil for a few minutes, cream, extra-sharp Cheddar, and Dijon are added. The sauce is then added to cooked macaroni, and some of the water from the pot in a baking dish, then topped with mixture of butter, panko bread crumbs, and more cheese. The casserole goes into the oven for around half an hour, and then served.
The mustard and red pepper flakes make all the difference, and prevent this from being just too rich to be enjoyable. Getting the cheese right is important too. The recipe calls for extra-sharp Cheddar, which seems simple, but even an average grocery store will have about ten different versions, ranging from the plastic packaged stuff sold along with the milk, to fancy-pants imported stuff at the cheese counter. You can spend a fortune on truly wonderful Cheddar, but it's probably a waste of money to go melting that into mac and cheese. The low end rubbery stuff will be OK, but not as good as it could be. The cheese really carries this dish so spending a bit more on a nice piece of aged local Cheddar is a worthwhile investment.
The recipe calls for panko, or other dried bread crumbs. I couldn't get my hands on any panko, so I went with bread crumbs from the bakery down the street. Panko are known for their lightness and texture, while my bread crumbs were quite finely ground and dense. The 2 cups of panko the recipe called for might have been a nice topping, but 2 cups of my bread crumbs probably weighed twice as much as panko did. The macaroni was just too heavy on the topping, and the very dry bread crumbs sucked up a huge amount of moisture, so that within about 20 minutes of taking the dish out of the oven, the macaroni had set up, and lost the saucy-runny aspect you're looking for in macaroni and cheese. You can see from the photo that it was next to impossible to find any of the macaroni under all the topping.
I think this recipe did a very nice job with the macaroni and sauce aspects, but fell short with the topping. I can't comment on how it would have been with panko, but while they gave regular bread crumbs as an acceptable alternative, it obviously wasn't. Beyond the topping, it was probably the best macaroni and cheese I've ever had. I'm sure that just a little tweaking could result in a truly great macaroni and cheese dinner, for the adults as well as the kids.