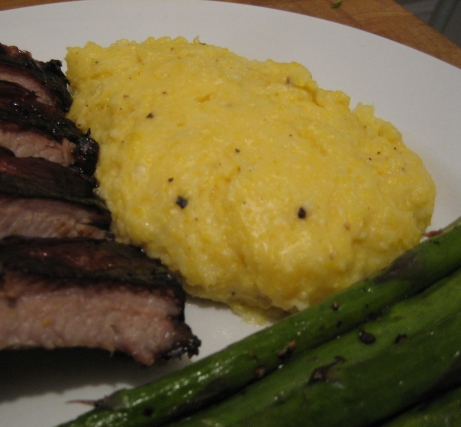 No recipe for this one, but the proportions are the same as the Basic Polenta recipe, with butter and Parmigiano-Reggiano stirred in at the end.
I'm not really clear on why this recipe needed to be a recipe at all, it could easily have been some optional additions at the bottom of the Basic Polenta recipe. The recipes are identical, except that this one only makes 4 cups, whereas the basic recipe makes 10.
I love that basic polenta recipe, it works flawlessly and doesn't take much effort. The addition of a bit of butter in this version is a definite improvement. It helps to smooth the polenta out, and amp up the creamy texture. This recipe calls for a lot of cheese, the proportions are 3 cups water, 3/4 cup polenta, and 1 cup grated Parmigiano-Reggiano. It's a rare day that I say something had too much cheese in it, but honestly you could have cut it in half. I don't think the second half cup did much to make the dish taste cheesier, it just added a lot of salt. I really like a bit of cheese stirred into my polenta, but this was excessive.
I served this polenta along with the Chinese-Hawaiian ribs from yesterday. They're both variations on southern classics, what's better than barbecued ribs and grits? unfortunately both dishes were different enough from the original I was hoping to emulate that they didn't go particularly well together. The polenta was intensely salty, and the ribs were overwhelmingly salty and sweet. Together they were too much. I think serving this polenta alongside a more mildly flavoured side, perhaps some stewed vegetables, or a pot-roast, would have showed it off to better advantage.
After a night in the fridge the polenta firmed up and set beautifully. I was able to cut the leftovers into a few slices, and crisp them up in a skillet. The outsides of the slices turned a deep brown and formed a crunchy lattice of melted Parmesan. The centre regained all the creamy runniness of the night before. We had them with poached eggs, fresh fruit, and a macchiato. I couldn't have asked for a nicer weekend breakfast. This second application showed off how good this dish could really be. It just goes to show that making a delicious dish isn't enough, pairing your foods correctly is just as important.