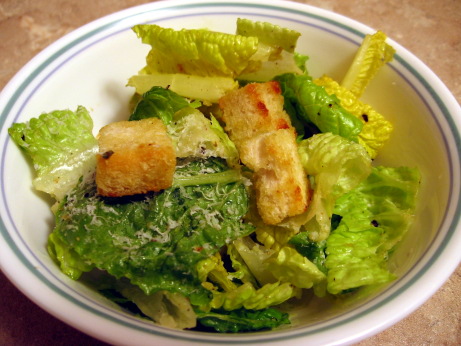 I can't find the recipe online.
Caesar salad is pretty much always good. The only way to really truly mess it up is to use wilted, or flavorless lettuce. I've seen it done, I had a chicken Caesar at a Boston Pizza that was an insult to the whole concept of food, but generally they're a safe bet, with a chance of being tasty. Growing up my dad made Caesar dressing regularly for a few years, then stopped despite our protests. He'll make it very occasionally now, but I can't get a straight answer as to why the Caesar train dried up. His Caesar was excellent, but my mother in law's is among the best I've ever had, and she's always happy to make one. She just sent me the recipe today, and we'll be trying it out. I'll let you know how mine works out in the comments. The Book's recipe doesn't hold a candle to either of those versions.
The recipe starts with making croûtons from firm white sandwich bread, toasting them for 10 minutes at 350, then tossing them with a mashed garlic, olive oil, and salt, then toasting for a few minutes more. The dressing is olive oil, egg yolks, lemon juice, white wine vinegar, Worcestershire sauce, salt, and minced and mashed anchovy. You toss romaine with the dressing, grate Parmigiano-Reggiano on top, and add the croûtons, along with salt and pepper, then toss again and serve.
The Good: The croûtons were very tasty indeed. 5 slices of bread worth of croûtons were tossed with 4 tablespoons of garlic oil, so each and every croûton got a good soaking of delicious delicious oil. I used nice crisp romaine hearts, and good cheese so we were well on our way to a very nice salad.
The Bad: The dressing for this salad was lackluster, in fact I probably wouldn't have guessed that it was supposed to be a Caesar dressing. It was nearer to a vinaigrette tossed with a bunch of cheese. I think it's a problem of technique, the recipe asks you to whisk together the oil, egg yolks, acids, and flavourings in a small bowl, in no specific order.  Those ingredients are otherwise known as mayonnaise if you whisk vigorously and add the oil to the other stuff in a very slow stream. As written the dressing was thin, but a better emulsion would have given the salad that creamy coating texture that makes Caesar great. The proportions were generally good, but there was too much Worcestershire for my taste, I'd cut the given 1 teaspoon down to 1/2 teaspoon, or even just a few dashes. The other weird aspect of the recipe is that all the garlic is in the croûtons, and none in the dressing. The traditional table-side Caesar preparation in a restaurant has the waiter rubbing the bowl with a garlic clove, that then gets mashed into the dressing. I decided to do something of the same thing and tossed my croûtons with their garlic oil in the bowl I eventually used for the salad. I think leaving all the garlic on the croûtons would have been a mistake. Finally, despite vigorous mincing of the anchovies, there were still a few clumps of salty fish in the final dressing. Not a problem for my sister or me, but my dining companion was not pleased.
The Verdict: I wasn't optimistic about this salad as I was making it. It didn't really look right, and tasting the dressing on it's own I was overpowered by the Worcestershire. Once it was all together it was actually a pretty good salad, just not what I'd ordinarily think of as a Caesar. The lack of texture in the dressing just weirded me out, although all of the basic flavours were there. That said, I went back for seconds of this kinda-sorta-Caesar salad, and my sister who took the rest of lunch the next day said it had improved with age (here's for hearty romaine that still fine 16 hours after being dressed). Almost all Caesars are good Caesars, and this one tasted just fine, but it was far from the best of my life.