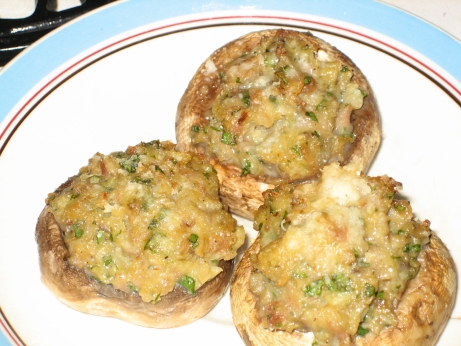 No recipe, too bad.
These were an excellent appetizer. I brought them to a dinner party and they disappeared just like that. They're mushroom caps stuffed with the cooked down mushroom stems, garlic, onion, bread crumbs, prosciutto, Parmesan, a useless dash of parsley, and an egg to hold it together. After the caps are filled they're sprinkled with a bit more cheese, and drizzled with olive oil. Then they go into a 400 degree oven for 20 minutes.
The mushrooms just cook through, and the filling melts into the gills making the whole things creamy and delicious. The prosciutto and Parmesan add wonderful flavours of their own, as well as a good bit of salt which helps release the essence of the mushrooms. In theory the parsley is there to add some colour to the filling, but I didn't find it very appealing. There is a lot of liquid in mushrooms, and the bread crumbs were there to soak it up. The 1/4 cup crumbs for 24 mushrooms the recipe recommends was a little on the low side. They could have stood to be dried out a bit.
This recipe worked really well, it was easy to do most of the prep at home, and then finish off the final assembly and baking at a friends place. I love appetizers that can be easily transported, either finished, or mostly finished. Almost inevitably you will be asked to bring things to a party more often than you'll host a party of your own, so ease of transport is a key criterion in looking for a good hors d'oeuvre.
The filling would work equally well in little vol-au-vent, but stuffing the caps really emphasizes the mushroom flavour, and makes them more fun to eat. The balance of flavours was spot on here, the mushrooms were front and centre, with the prosciutto and Parmesan acting as capable supporting players. This recipe is a mycophobe's worst nightmare, but a good trick to have up your sleeve if you're asked to bring a little something to the party.