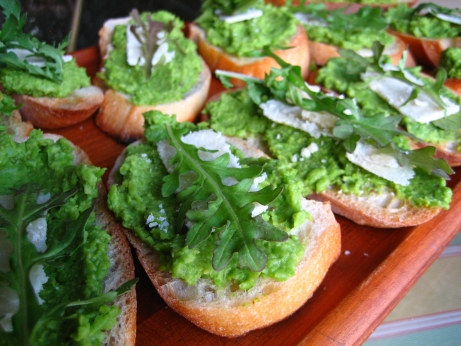 The recipe
The next couple of appetizers were a co-production with my sister for a family party. These seemed to appeal to the adults, but the kids were a bit put off by the green mush. I tried some of the leftovers out on a friend's three year old, but the baguette croûtes were too tough for her. She licked the pea-purée off, held in her mouth for a bit, then spat it all over my dining room table. This puzzled me, because the pea-purée is pretty much baby food. Maybe three year olds aren't great fans of garlic and Parmigiano-Reggiano?
I thought these appetizers worked well. The pea-purée was flavorful with sweet roasted garlic, salty cheese, and lemon juice coming through clearly. Topping with a slice of Parmigiano-Reggiano and baby arugula leaf made for a nice colour counterpoint, and the baguette croûtes provided some much needed crunch.
I'm always happy to find appetizers that transport well. I was able to mostly make these ahead, and then just do final presentation at the party. I made the pea-purée and croûtes at home, and then just had to slice the cheese and assemble them once I arrived. Unfortunately these were a little bit hard to eat, the croûtes tended to crack in largish pieces, and a couple of people dropped dollops of pea-purée onto my uncle's carpet. He's a neat and tidy kind of guy, so I cringed at every splat. I think using a smaller loaf would work better, maybe a baguettine, or a ficelle if they're available. Pairing these down to one or two bites each would be easier on the wall to wall.
The recipe warns that using fresh peas is a waste of time, as the frozen ones are much easier and will result in a less starchy dish. I used frozen but still found the pea-schmear starchy. I'm not sure if I undercooked them, or that's just the nature of peas. I think a little more olive oil in the purée would have made a better emulsion, and the starchiness would have been less noticeable.
I was quite pleased with these as appetizers. They were fairly healthy, very colourful, tasted pretty good, and didn't take too too much effort. I'd certainly make them again.