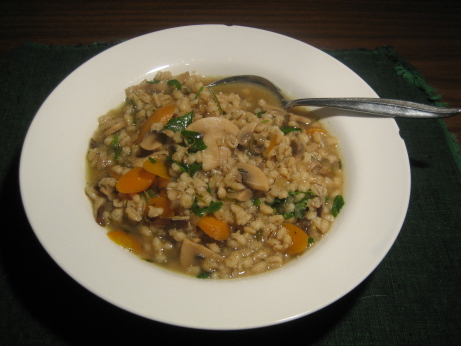 The recipe
This soup suffers from a serious branding issue. If it had been billed as barely soupy barley stew, with extra barley, some carrots, and hardly any mushrooms at all, I would have known what I was getting into. The blurb for the recipe talks about all the contrasting mushroom flavours and blah blah blah, but I really had to do some food styling to get any mushrooms in the photo at all. I picked this recipe because I wanted a mushroom soup, and I was looking forward to a little added body from the barley, and a nice background of aromatics. I ended up with a perfectly OK barley stew that I wasn't at all in the mood for.
The recipe starts by browning garlic and onion in a large pot, then adding sliced white mushrooms, soaked and sliced shiitake's, soy sauce, cooking out the liquid, then adding sherry and evaporating that too. The liquid is then added in the form of chicken stock, water, and the mushroom soaking liquid. The barley, carrots, and dried thyme and rosemary are added and the soup simmers for an hour. When it's ready it's seasoned with salt and pepper, and some parsley is stirred in just before serving.
The texture was very thick and hearty, with most of the flavour coming from the chicken stock and aromatics. It actually tasted a whole lot like my mom's beef and barley soup, but without the deep beef stock and hearty chunks of meat that made that a satisfying winter lunch. The chicken stock left it tasting thin and whimpy, and seriously overpowered by the mushy barley texture. I should reiterate that for a mushroom barley soup, mushrooms were not a flavour consideration.
Unfortunately this soup was in a rotten in between spot. With less barley and four times more mushrooms it could have been the nice mushroom soup it advertised itself as, or using a more concentrated stock, and adding rich chunks of meat, could have resulted in a thick barely stew worth eating. As it was, it was perfectly edible, but nothing to look forward to.