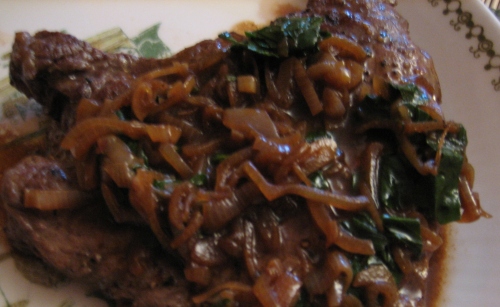 I can't find a recipe to link to, and that's a real shame. This dish was a knockout. The classic version uses tenderloin, here The Book calls for much more affordable sirloins. The steaks were flavourful and ended up fillet mignon tender after a pummeling with an empty wine bottle. The steaks were seasoned with salt and pepper, then pan seared. I cooked down some shallots in the fat in the pan, and added a mixture of beef broth, Worcestershire, lemon juice, Dijon, Cognac, and Sherry (I used port). I reduced the sauce, and finished with butter and parsley.
The only change I'd make to this one would be to leave the parsley out of the sauce, it wilted kind of unattractively. I'd leave it out all together, but a bit in a chiffonade over the steaks would look nice.
This took all of 20 minutes to put together and it blew me away. I'm a sucker for a pan sauce because they rescue so much of the goodness you left behind in the pan, and can add complimentary flavours and complexity. In this case the sauce was exceptionally well balanced, and enhanced the flavour of the steaks without covering anything up. I loved that this took no time to prepare (dicing a whole cup of shallots was the most irritating part), didn't cost an arm and a leg, and left a big impression with my guests. Traditionally the cognac is added right at the end of the dish and ignited table side, the recipe doesn't call for it but big flames can do wonders to liven up a dinner party.
This was so good I've awarded it the first 5 mushroom rating of the project. Well done Steak Diane, well done.