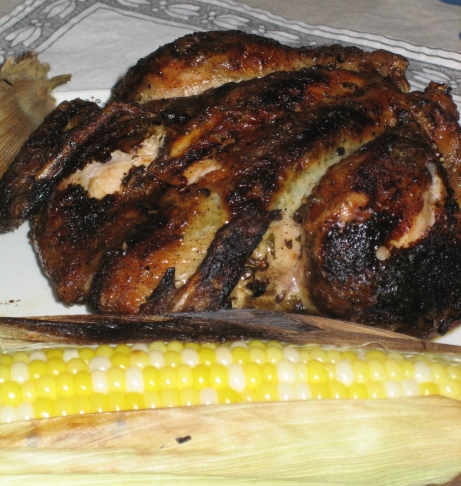 The recipe for this one isn't online, but it was so good I'm going to give it to you here.
3/4 stick (6 tablespoons) unsalted butter, softened
1/4 cup chopped fresh basil
3 garlic cloves minced
1 teaspoon salt
1/2 teaspoon freshly ground black pepper
2 (1 1/4- to 1 1/2- pound) Cornish hens, rinsed and patted dry

Stir together butter, basil, garlic, 1/2 teaspoon salt, and 1/4 teaspoon pepper in a small bowl.
Prepare a charcoal or gas grill: if using a charcoal grill, open vents in bottom of grill and in cover. Spread charcoal evenly on one side of grill (about 60 briquettes) and light. Fire is medium-hot when you can hold your hand 5 inches above rack for just 3-4 seconds. If using a gas grill, preheat on high, covered, for 10 minutes, then reduce heat to moderate.
Meanwhile, flatten hens (see below). With kitchen shears, cut out backbones. Pat hens dry again, then spread flat, skin side up, on a cutting board. Cut a half inch slit in each side of each hen in center triangle of skin between thigh and breast (near drumstick). Then tuck bottom knob of drumstick through slit. Tuck wing tips under breasts. Work your fingers between skin and flesh of breasts and legs and loosen skin without detaching it entirely, being careful not to tear it. Spread butter under and over skin. Sprinkle hens with remaining 1/2 teaspoon salt and 1/4 teaspoon pepper.
Lightly grill rack and grill hens (covered only if using gas), turning once until browned, about 10 minutes. Transfer hens to side of charcoal grill with no coals, or, if using gas, move hens to one side and shut off burner below them. Cover with lid and grill until cooked through 20 – 25 minutes more.

COOK'S NOTE
The hens can be prepared for cooking and rubbed with butter up to 2 hours ahead; refrigerate covered.
The recipe provides a further description of the bird flattening technique, called spatchcocking, in an inset panel, with a few of The Books line drawing illustrations.
This recipe combines a few nifty techniques to great effect. First it uses a compound butter, which is an awesome tool in a cook's arsenal. They can be made ahead, flavoured with just about anything, and bring a big punch of flavour and buttery goodness to a dish very quickly.
Second, the spatchcocking technique was a great find. I've been using it on chickens and it works wonders. The great advantage is that the whole bird ends up being uniformly thick so the breasts cook at the same rate as the legs. It also allows the whole thing to cook much more quickly.
Third, loosening the Cornish hen's skin and rubbing the butter into the space between skin and flesh adds fat to the bird which keeps it moist. The herbs in the butter are protected from the direct flame by the skin, so they retain some fresh flavours. Separating the skin also helps it brown and crisp up better. My skin ended up a little blacker than I would have liked it, but it was still one of the great highlights of this dish.
Finally, the indirect grilling technique is invaluable. I've been using it for anything I grill which is larger than a hamburger. It allows you to put some decorative grill marks on the food, but then allow it to cook more slowly and avoid burning the outside before the inside is done. I used to try to do this over a very low direct flame, but indirect heat from a medium burner works so much better, and more quickly. It ends up being a hybrid grilling-roasting technique, which takes the best of both methods.
I wrote an ode to Cornish hens a couple of weeks ago, so you know I'm a fan of these birds. This preparation was just as good, if not better than the roast Moroccan version. The basil garlic butter was so simple, and a complete triumph. Putting it under the skin gave the basil time to completely perfuse the meat, and garlic has never had difficultly scenting dishes. The meat was rich, moist, and succulent. The added fat really helped this dish out. and getting some salt right into the meat certainly enhanced the flavours. The skin was out of this world good, it turned into crispy cracklings that were intensely flavoured by the butter.
I made a pretense of eating this with a knife and fork, but by the end I was gnawing on bones, smacking my lips, and licking my fingers. I couldn't bear the thought of throwing out even the tiniest edible morsel. This bird was just delicious, it used some great techniques which generalize, and lead to all sorts of other dishes. Grilled Cornish Hens with Basil Butter, you've earned your five mushroom rating.