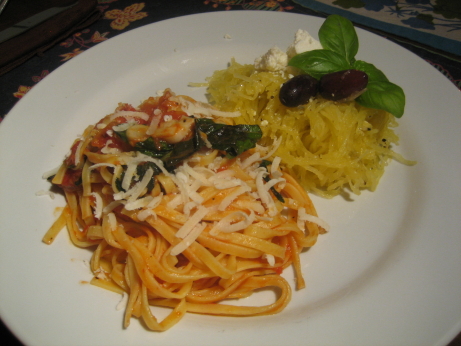 Unfortunately there's no recipe for this one.
This is a recipe for September. It has only a few ingredients, and they're available year round, but the rest of the year it'll be a pale imitation of itself. This incredibly simple pasta sauce starts with browning garlic slices in olive oil, then adding chopped tomatoes and basil branches and simmering for 20 minutes. You then stir in basil leaves, season with salt and pepper, and toss it with fettuccine.
It could not possibly be simpler, so it comes down to the quality of your ingredients. I'm sure making this with canned tomatoes, Chinese garlic, and greenhouse basil would taste pretty good, but you'll miss the whole point. My favourite part about this recipe is its sense of time and place. In late August and September the tomatoes are abundant and deliriously flavourful, basil is growing like a weed, and freshly dug garlic is just turning up at the markets. During this perishable moment all the ingredients for this recipe are at their peak, and they're practically being given away. I feel it's my duty to try to use up as many of them as I can, and ideally to do as little to them as possible.
I thought this dish was just wonderful. It managed to capture the essence of late summer on a plate. The tomatoes broke down, but kept their just-picked flavour. My garlic was so fresh it was next to impossible to peel, and the pungent basil left me reeling. The fettuccini drank up the sauce, and took on its flavours. Finished with a bit of Parmigiano-Reggiano, and a grind of pepper I just couldn't have asked for a better meal.
My dining companion thought it was good, but nowhere near as earth-shattering as I did. Whether it was the recipe, or my state of mind that day, it struck me as a near perfect dinner. It might deserve a full five mushrooms, but I'm going to deduct a half-a-mushroom for instructing me to peel the tomatoes, which seems like a total waste of time for a rustic casual pasta dish like this. Also, since it didn't move my dining companion, I can't in good conscience give it full marks.