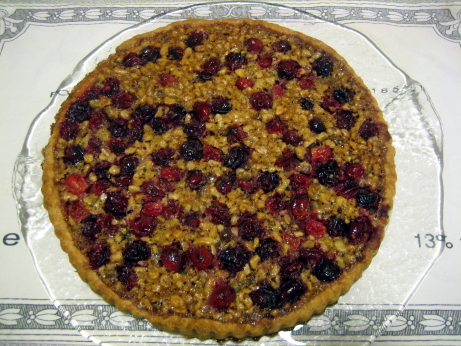 The recipe
Cooking is a learning process, and a lot of lessons just need to be learned the hard way. There are a host of excellent kitchen habits that food educators are desperate for us to get into, such as, reading the recipe all the way through, verifying that you have all the ingredients, doing things that can be done ahead ahead, getting your mise en place, and cleaning as you go. These are wonderful, labour saving, better for you in the long run, habits. Unfortunately it takes a fiasco for me to really internalize any of those teachings.
Today's lesson was "Don't assume, you'll make an ass out of u and me". I'd already learned the read the recipe all the way through lesson, so it was time to screw up the checking that you have all the ingredients you think you have step. I made a special trip to the grocery store to get the stuff for this tart, and picking up corn syrup wouldn't have been a problem, but I took it on faith that somewhere in the depths of the pantry a sticky bottle of light corn syrup was waiting for me. I was wrong, in a two cook household you can never trust that the pantry fairies haven't come along and wiped you out of cream of tartar. For the record, acceptable substitutions for 1 cup of light corn syrup are 1 cup of dark corn syrup, 1 cup of treacle, 1 cup of liquid glucose, 1 cup of honey, or 1 cup of granulated white sugar (increase the liquid in the recipe by 1/4 cup). You'll notice that 1 cup of maple syrup is not on that list. I knew that I should really make a simple syrup as a stand in, and two seconds of googling would have turned me on to honey, but I went with maple syrup because I'd failed to heed the "do what can be done ahead ahead" lesson, and the guests were coming much sooner than I was ready for.
For this tart I baked off a batch of Sweet Pastry Dough, then whisked together eggs, brown sugar, maple syrup instead of corn syrup, butter, salt, and vanilla, then stirred in chopped walnuts and cranberries which i forgot to chop (I was frazzled). I baked it for half of the recommended 45 minutes because it was starting to burn.
Part of the filling boiled over the sides of the pan and onto the bottom of the oven, and some got between the crust and the tart pan. That left a lot less filling in the actual pie shell, so it began to dry out. Maybe if I'd chopped the cranberries as as I was supposed to they would have released more juice, and kept the caramel saucy. The pie was really sticky and thick, hard to cut, hard to eat, and didn't taste all that great. The cranberry-walnut-caramel combination should have been a winner, and it might well have been if I'd followed the recipe properly. The people on Epicurious seem to like it well enough.
As a pie this really wasn't great, but it worked out well as a life lesson. Today I learned that just because I've had an ingredient at some point doesn't mean I still have it. I've also started to think about organizing the pantry so that it makes some kind of sense. In future, if the cook's note at the bottom says that the recipe can me made a day in advance, I'll consider availing myself of that. Sometimes it takes several painful repetitions for a lesson to sink in, but I'm begining to appreciate the fact that the Gods of pastry aren't shy about smiting those who play fast and loose with the recipe. I always feel bad when I give a recipe a poor rating when it was at least partially my fault, but too bad, The Book doesn't actually have feelings that I can hurt. I give my performance as a cook here 1/5 mushrooms, but the tart fares a bit better.