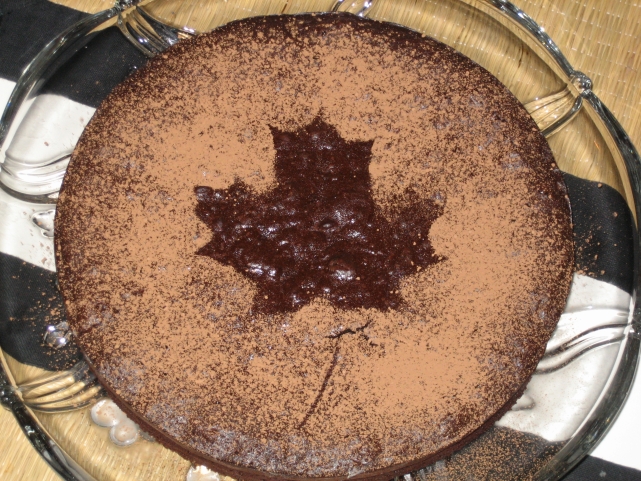 the recipe
This cake will make you believe flour and leavening were just getting in the way of every cake you've ever made before. It's the chocolate cake equivalent of shortbread, the essence of the dish with all the frills stripped away. Cheap butter spoils shortbread; cheap chocolate would spoil this cake. There's nothing in here but chocolate, butter, sugar, eggs, and enough cocoa powder to hold it together (the linked recipe makes an 8 inch cake's worth, The Book's a 10 inch).
The cake is moist, dense, rich, and intensely chocolaty. It's elegant enough for any dinner party, and decadent enough to drown your sorrows in. It also comes together as easily as a batch of brownies. In fact there are a lot of similarities between this cake and really really good brownies. An article in the NY Times Dining and Wine section this week (link, username and password = metafilter) suggests that brownies may be fine dining after all.
I really appreciated the versatility of this cake. It would be a great finish to a romantic dinner, it travels well, it gets around a lot of dietary restrictions (no flour, no nuts), and it will appeal to the kids as much as the grown ups. This cake is forthright, unapologetically bad for you, requires nothing you don't have on hand, takes 20 minutes, and most importantly it's tasty.