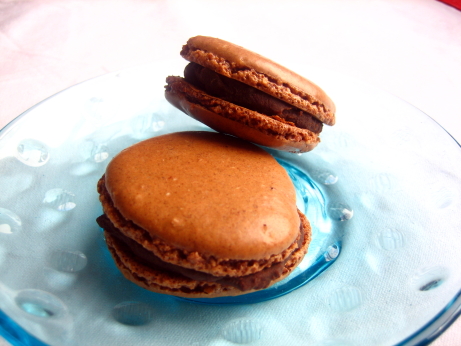 I can't find the recipe for these online, but they're so good I'll retype it for you lovely people.
FOR MACAROONS

1 1/3 cups (7 ounces) skinned whole almonds

3 1/2 cups confectioners' sugar

1/3 cup unsweetened Dutch-process cocoa powder

7/8 cup egg whites (from 6 large eggs)

pinch of salt

1 tablespoon granulated sugar

FOR GANACHE FILLING

1/2 cup heavy cream

2 teaspoons whole milk

2 1/2 tablespoons unsweetened Dutch-process cocoa powder

4 ounces good bittersweet chocolate, finely chopped

1 stick unsalted butter, cut into 1/2 inch pieces

SPECIAL EQUIPMENT: Parchment paper; a pastry bag fitted with a 1/4-inch plain tip

MAKE THE MACAROONS: Put a rack in middle of oven and preheat oven to 400F. Line two large baking sheets with parchment paper.

Pulse almonds with 2 cups confectioners' sugar in a food processor until finely ground (almost to a powder). Add cocoa and remaining 1 1/2 cups confectioners' sugar and pulse until combined.

Beat egg whites with salt in a large bowl with an electric mixer at medium-high speed until they hold soft peaks. Add granulated sugar and beat until whites just hold stiff peaks. Gently but thoroughly fold in almond mixture in 3 batches (batter will be very soft).

Transfer batter to a pastry bag and pipe 1-inch-wide mounds about 2 inches apart on lined baking sheets. Bake macaroons in batches until tops are slightly cracked and appear dry but are still slightly soft to the touch, 8 to 10 minutes per batch. Transfer macaroons, still on parchment, to dampened kitchen towels and cool for 5 minutes, then peel from paper and cool completely on racks.

MEANWHILE, MAKE THE GANACHE FILLING: Bring cream and milk to a boil in a small heavy saucepan over moderate heat. Whisk in cocoa and remove from heat. Add chopped chocolate and butter and stir until smooth. Cool filling, then refrigerate, covered, until firm enough to hold its shape when spread, about 30 minutes.

Sandwich flat sides of macaroons together with 1/2 teaspoon filling per pair.

COOK'S NOTES

While 7/8 cup egg whites may seem and odd measure, this amount gives the ideal texture and flavour. Measure the whites in a liquid-measuring cup.
The macaroons can be made up to 1 day before you fill them. Refrigerate, layered between sheets of wax or parchment paper, in an airtight container.
The filled macaroons keep, layered between sheets of way or parchment paper in an airtight container and refrigerated, for up to 1 week.
I don't have enough good things to say about this recipe. The cookies were delicious and elegant. The recipe makes a lot of cookies, so I brought them to several gatherings, always to rave reviews. The chocolate filling is wonderful, and everyone loves ganache, but the cookie itself was my favourite part. I really like flourless cookies like this, the almonds provide substance, but the structure is all from the meringue. The outer surface of the cookie was smooth and crisp, the interior was like almond sponge candy, soft, but with just a little bit of toothsomeness. Despite all the sugar, they miraculously avoided being too sweet.
My only bone to pick with this recipe, is the use of the word macaroon in the title. A double O macaroon is an American coconut cookie, a single O macaron is a French almond cookie, get it straight Gourmet. These were truly excellent cookies, they were a bit time consuming and finicky, but I enjoyed the process. The recipe was well written and didn't lead to any major surprises. My only caveat is to make sure to grind the almonds very finely, otherwise they'll clog up the tip of the pastry bag when you're piping the cookies.
A while ago my brother brought me some Macarons from a very posh bakery in Paris, and while theirs were certainly prettier, I preferred the flavour of my homemade version. These macarons are my new favourite cookie, and I expect them to be on frequent rotation in our house.