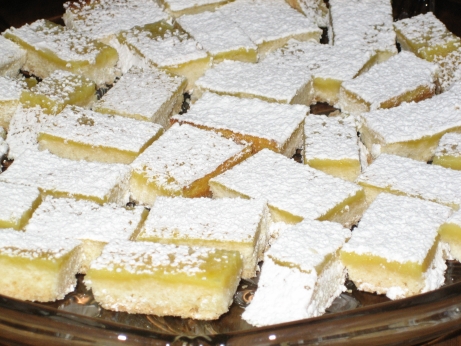 No recipe for this one. But they were so good I can't help but giving you the recipe and them a five mushroom rating.
FOR CRUST
2 cups all purpose flour
1/2 cup granulated sugar
1/2 teaspoon salt
1 1/2 sticks cold unsalted butter, cut into 1/2 inch pieces

FOR FILLING
3 large eggs
1/2 cup granulated sugar
2 tablespoons all-purpose flour
2 tablespoons heavy cream
1 teaspoon finely grated lemon zest
1/4 cup fresh lemon juice
1/8 teaspoon salt

Confectioners' sugar for sprinkling

MAKE THE CRUST: Put a rack in middle of oven and preheat oven to 350F.
Pulse together four, sugar, and salt in a food processor just until combined. Add butter and pulse until mixture resembles coarse meal. Press dough onto bottom of an ungreased 9-inch square baking pan. Bake until golden brown, about 20 minutes.

MEANWHILE, MAKE THE FILLING: Whisk together eggs, granulated sugar, flour, heavy cream, zest, juice, and salt in a bowl until combined.

BAKE THE BARS: When crust is baked, rewhisk lemon mixture and pour onto hot crust. Bake until just set, about 16 minutes. Transfer pan to a rack to cool.

Refrigerate bars, covered, until cold, at least 4 hours. Before serving, cut into bars and sprinkle with a thick layer of confectioners' sugar.
I'm sure we've all eaten a million lemon bars, some insipid, some inspired. We all know the bad ones with their mushy oily crusts, and super sweet lemon topping that's either sloppy pudding, or a Fruit Roll-Up. Worse is the health-food version with a cardboard dry crust that crumbles if you look at it, and artificial sweeteners. My ideal lemon bar is built on really good shortbread, where good quality fresh butter is a must. The topping should be a sweet-tart just set lemon custard that's thick enough to stay in place but avoid gumminess at all costs.
This bar lived up to that ideal quite nicely. All of the shortbread recipes in The Book seem to come out beautifully, and this one was no exception. The lemon topping balanced the tart acid of the lemons with just enough sugar, and added zip to the smooth egg and cream custard. Add a bit of powdered sugar and it was good to to.
In making this recipe I learned the value of measuring your baking dish. It calls for a 9 inch square, and I grabbed something significantly larger without thinking it though. I spread the shortbread out on one half of the pan and baked it. When it came time to pour the liquid custard on top of it I realized I had a problem. I attempted to rig up a shield wall out of aluminum foil to keep the filling on the shortbread, but my wall breached during baking. I ended up with a deep pool of filling on one side of the sheet pan, and much less filling on the shortbread than I would have liked. It was still totally delicious with half the filling, and I can only imagine that it would have been better had I not messed up.
Lemon bars, you're the second recipe in a row to earn your five mushroom rating. Kudos.