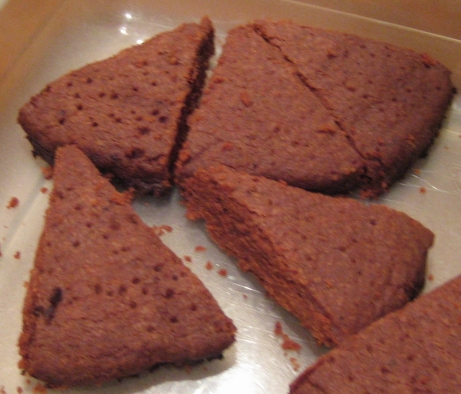 I made this recipe before I'd formally started The Project. I didn't have my own camera back then so I invited friends over to both eat, and photograph, my food. I recently received a batch of those photos, and now I'm trying to remember how something tasted a year and a half later. Frankly I'm quite surprised at how well I do remember some of them. There's a Roast Pork With Sweet-and-Sour Chile Cilantro Sauce that has faded from memory enough that I don't feel confident writing about it, so I'll submit it to the redo pile. But, on the whole I feel pretty confident in my memories. For next few recipes you might have to excuse some hazy spots in my recollection. I'll try to fill in the missing bits with lies and wild imaginings.
The Book is a fan of shortbread, it gets integrated into all sorts of squares, cookies, bars, confections and who knows what else. Both of the ones I've tried have turned out beautifully. Shortbread is about as simple as a baked good can get, and provided that the very short list of ingredients that go in are top quality the results are inevitably delicious. It does burn rather easily, so careful monitoring is a good habit to get into. In this recipe the shortbread is cut into wedge shaped cookies, and eaten on it's own. The recipe recommends pairing these with a glass of port after dinner.
The twist in this recipe is the addition of 1/4 cup of dutch-process cocoa powder to the basic recipe. The cocoa was successful in turning the shortbread a dark chocolaty colour, and between the name and appearance of these cookies you'd expect them to taste chocolaty. In fact they taste like shortbread, with a hint of bitterness. I was surprised at how un-chocolaty these ended up, food colouring would have produced the same result. Now, shortbread is delicious, but when you bite into something billed as Dark Chocolate Shortbread, you might expect it to taste like chocolate. I was a bit let down by that trickery.
I might make these again if I was serving a shortbread tray a Christmas and wanted to alternate light and dark pieces for visual effect, but as it was it just built up and dashed a hope of chocolately shortbread goodness. I might try cutting the white flour down to 1/2 cup, and bumping the cocoa up to 1/2 cup, maybe then we'd have a chocolate shortbread recipe worth talking about. These were by no means bad, but they were by no means chocolate either.