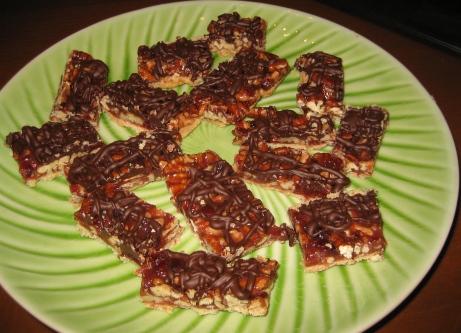 the recipe
I really enjoyed these bars. I brought half of them to a party, and they disappeared instantly. I enjoyed more of them over the next week, and brought out even more from the freezer a couple months later. All that to say, the recipe make a lot of bars, and they keep and freeze well. They're filled with pecans coated in a buttery-tart cranberry caramel. This filling goes down onto a shortbread base, and the whole thing is drizzled with melted chocolate. They weren't light, they weren't particularly easy to put together, they weren't cheap, but they were absolutely worth it.
Any bar that starts with a shortbread base is off to a good start in my book. It's so simple, and invariably fantastic. The cranberry caramel tasted great. The butter and sugar were cut by the tart cranberries, which kept it from tasting too rich. The caramel allowed me to play with my candy thermometer, and convinced me I really need a better one. Because the butter goes into the caramel from the beginning it's got to be monitored carefully. It needs to get hot enough for the sugar to caramelize, but not so hot that the milk-solids in the butter burn. Once the cranberries and pecans have been added and the mixture has been allowed to return to 245 degrees it has to be spread out on the shortbread base very quickly. The caramel is dense, sticky, stringy, and ferociously hot. An errant bit of pecan slipped off my silicone spatula and landed on my wrist. The candy Gods reminded me not to be too casual with a nice little burn.
After the bars have cooled you can add the chocolate. The book recommends snipping the end off a Ziplock bag, but there's no reason you can't use a pastry bag if you have one. I wish I'd been a bit more careful in decorating them, my random crosshatch wasn't the most attractive, nothing wrong with it, but I could have made them prettier. The chocolate was nice, but certainly not necessary. They might have been better looking without it, and while the flavour didn't detract at all I'm not sure it added much. Between cranberries, pecans, and shortbread there was a lot going on flavour-wise, and chocolate didn't particularly elevate, or marry these flavours. I know the "add chocolate to make it better" school is strong, but in this case adding chocolate made them chocolatier, not necessarily better.
These squares would be a welcome addition to any Christmas baking repertoire, and work well for pretty much any occasion the rest of the year too. Because they keep so well, they're ideal do-aheads. I thought the flavour and texture were great, really crunchy between the shortbread and nuts, with a gooey chewiness from the caramel. The caramel also acted as a glue, and counteracted some of the crumbling problems that shortbread is prone to. With or without chocolate these are delicious, reliable, and impressive squares. They probably merit a 5 mushroom rating, but they lost half a mushroom for attacking me.