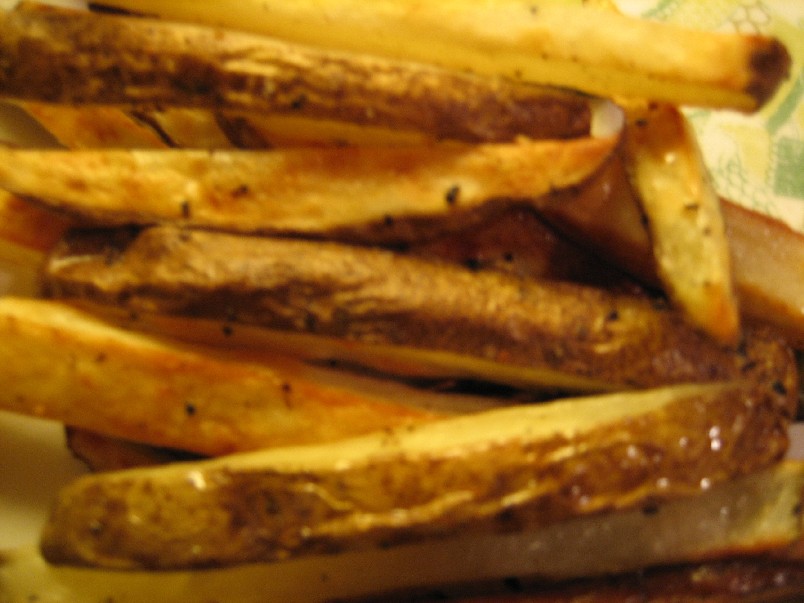 Epicurious doesn't have a recipe to link to for this one. But since this is hardly a recipe at all we won't worry too much. I cut three large baking potatoes (skins on) into wedges about 1/3 of an inch wide, tossed with vegetable oil, salt, and pepper and transfered them to a baking sheet. I baked at 500 for 25 minutes flipping once.
These were nearly as good as their fried cousins, and I didn't have liters of hot oil on my stove. The last time I tried frying at home I used a cheap fry thermometer and let the oil temp get away from me. When the fries went in, the oil boiled over the sides of my pot and half of my kitchen turned into a fireball. Hours spent cleaning a slurry of extinguisher powder and oil out of my stove has given me a healthy sense of respect for home frying. Worse, even when done successfully in as well ventilated an area as an apartment kitchen can be, you and all your clothes still end up smelling like french fries.
The results of this baked version were different, the potato skins not quite as crispy, but not as oily either. The cleanup was a snap, and there wasn't even a chance the fire department would need to show up. The recipe calls for 1/4 cup of oil, I used less and found that even with a non stick baking sheet they did stick a bit.
I had these as a side to fish en papillote with tomatoes and olives. They really saved that supper.