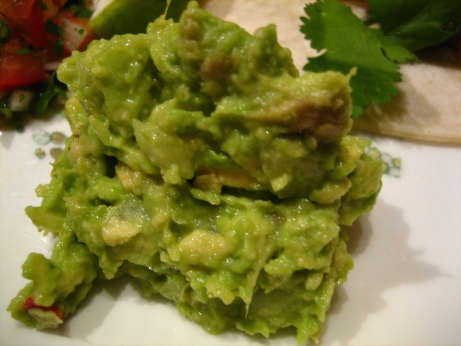 No linked recipe this time, but this one is so simple I don't mind retyping it.
4 ripe California avocados, halved, pitted, and peeled
1/2 cup finely chopped white onion
3-4 serrano chiles, minced including seeds
2 1/2 tablespoons fresh lime juice, or to taste
1 1/4 teaspoons kosher salt, or to taste
Combine ingredients in a bowl, mash with a fork until avocado is mashed but still somewhat chunky. Stir until blended.
This guacamole was absolutely minimalist, and not in a good way. No garlic, no cilantro, no tomatoes, no nothing. The avocado relish meant to accompany Tortilla Soup With Crisp Tortillas and Avocado Relish on page 96 is by far the superior guacamole (I'll get to writing that up in a few months, I'm way way behind).
To be fair, the book does offer this version of the guacamole up as a base for several interesting variations: Guacamole with tomato, radish and cilantro guacamole, fall-winter fruit guacamole, and summer fruit guacamole. The radish and cilantro sounds particularly interesting. I'm adding radishes to the list of under appreciated vegetables, relegated to being picked around on crudité plates and otherwise ignored.
The central flaw with this recipe in all it's variations is the omission of garlic. I don't think I've ever had a guacamole without garlic, and I don't think I care to ever again. I'm not sure if this this no garlic business is the traditional method and my readers in Oaxaca are exchanging sly glances about the stupid Canadian, but this is my stance and I'm sticking to it. Maybe if this was the first time I'd ever had guacamole I wouldn't have missed the garlic, but theres no going back once you know the wonders of the avocado-lime-garlic trifecta.
Overall this was fine, but could have been so much more. The other variations may have worked out better than the base recipe, but as it was it was just dull.
N.B. I'll do my best to push that nasty picture of the fajitas off the main page as quickly as possible. Sorry.