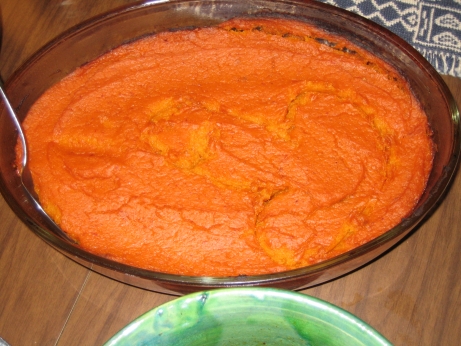 Chipotles were the taste sensation of 2006 for me. In fact they were a taste sensation that took the fast food world by storm, from Doritos to Subway you could hardy avoid these often mispronounced smoked jalapeños in adobo sauce. Bobby Flay (restaurateur, Iron Chef, and lover of limelight) is generally cited as patient 0 in the spreading chile epidemic. I'm happy to say that I've been infected, and that the taste sensation of 2007 are some of Bobby's other favourites, Anchos, Gualliros, and Pasillas. I'm still deeply fond of the chipotle, it's unbelievable depth of flavour, and layers of smoke add a mysterious smouldering quality to any dish. As it turns out this is one of Bobby Flay's own recipes.
It's a very straightforward preparation, sweet potatoes are roasted in their skins, then scooped out and beaten together with chipotles, butter, and salt. The mixture is spread into a baking dish and baked for another 20 minutes. The flavours are spot on in this recipe, the sugar soaked earthiness of the sweet potatoes is a perfect compliment to the chipotles. Heat and sweet go together so very well, and these two ingredients bring out the best in each other. The recipe also resists the temptation to make things complex, there are only four ingredients here, and that simplicity is its greatest strength.
Texture unfortunately is a weakness of the dish. The sweet potatoes are whipped, but not whipped in the sense of light and airy, more dense, wet, heavy, and textureless. There's nothing in here that would give it the structure necessary to become light. I suppose you could fold in stiffly beaten egg whites before the final baking, but I'd rather go the other direction. I wouldn't whip them at all. This would be much better as smashed chipotle sweet potatoes. Leaving some nice chunks of firm but yielding sweet potato in there would be a major improvement.
I've made these a couple of times, and once I had problems with my potatoes splitting and drying out in the oven. Be careful to use undamaged potatoes, and to prick them well. If they split all is lost.
I really really liked the flavours of this dish, and it's texture could easily be improved. It's designed as a prepare ahead casserole that can be warmed up when the Thanksgiving hoards arrive. If you're making it a la minute you can probably skip the final baking step. It gives the dish a crust, but that's not necessarily a good thing. If you felt like it adding cheese before baking would turn this into a nice gratinée, and a substantial main course. This recipe is easy, cheap, and delicious. I never get tired of the sweet potato chipotle interplay, and its become a standby for me.