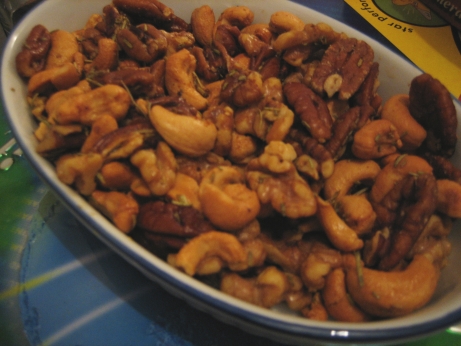 No recipe this time, sorry.
This is the second recipe in the book, with only Candied Walnuts coming before it. It's a very strong start. It combines my favorite things, simple, delicious, and affordable. It's a shame that the recipe isn't available online, but the proportions aren't that important anyway. All you need to do is melt butter with crushed dried rosemary, salt, and cayenne. Then toss the nuts in the butter and bake the whole thing at 350 for ten minutes.
Those of you who've been paying attention will have noticed that the above photo has been contaminated with non-walnut nuts. My excuse? The grocery store was out of walnuts an hour before my guests arrived, so I went with what they had. In combination with the walnuts I had in the freezer I figured it would count. As a matter of fact the walnuts weren't event the best part. I found that the cashews and pecans really sparkled with this treatment.
The star of the show in this dish is the cayenne, it's unexpected, and it plays a beautiful counterpoint to the richness of the nuts. But wait! clearly the rosemary is the star. It gives the dish body, and takes the flavours to a more sophisticated place. Without the rosemary the dish would risk being brushed off as "spicy nuts". Maybe neither star is enough to carry the show, but together they light up the stage like Sonny and Cher.
My only tiny change would be to reduce the butter by about half. Ideally there would be just enough to coat the spices onto the nuts without pooling and carrying flavours away.
These were are really excellent appetizer, and no one could help themselves from having just one more. If you find yourself in the kitchen singing "I've got you babe" to a dish of these, I won't blame you.