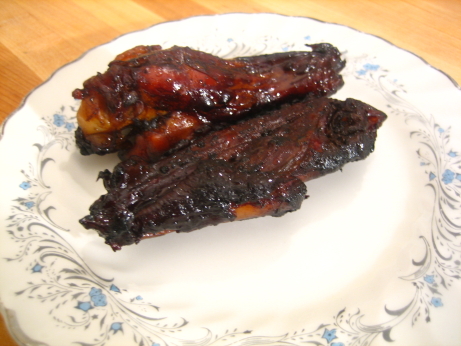 The recipe
I'm really ambivalent about this recipe. My wings were delicious, but the recipe is horrible. Basically you combine soy, red wine, sugar, and ginger and bring it to a boil, then pour it over chicken wings in a roasting pan and bake at 400 for 45 minutes, flip them, and cook for another hour-ish. It's supposed to result in a thick, tar-like coating for the wings. It actually starts to burn about half an hour into the cooking and completely ruins a baking sheet. I'm not the only one to have run into this problem, the Epicurious comments are full of complaints. However the author of this recipe, Metta Miller, wrote on the boards as well. She says
Hello all, Sorry our kitchen whiz north of the border found these to be vile. If you follow my original instructions (Gourmet altered the recipe) they will be delicious every time…..To the salt sensitive: Use low-sodium soy sauce. To those concerned about burnt pans/sauce: Bake at 375 degrees for 45 minutes; turn and check after another 30-45 minutes. I've been making these wings this way for years and haven't ended up with a single ruined pan — or a single complaint — yet. Good luck!
The recipe as written in The Book is atrocious. The cooking time is way too long, and it's too hot. The soy-wine-sugar-ginger sauce set up into a lava-rock like caramel that wouldn't come off my pan despite soaking, scrubbing, vinegar, steel wool, and boiling water. It was also giving off huge volumes of black sticky smoke, and set off the fire alarm.
I was convinced the wings were ruined, but I pulled them out and transfered them to another baking dish. I scraped up the sauce that hadn't burnt, and diluted it with water, then stuck the wings and sauce back into the oven at a lower temperature, and periodically added more water. After about an hour and half total cooking time the wings were tender with a nice crispy exterior.
I was using some very nice free range chicken wings, which make a huge difference. I'm not in a position to eat free range chicken all the time, but free range wings are cheap, and it makes a world of difference. They're so much meatier and more flavourful than the other kind. The sauce was probably quite different from what the book intended, because I lost more than half of it, and kept diluting what remained, it never thickened or resembled a tar pit. It ended up as a nice caramelized glaze, with wonderful flavour. The wine worked with the soy and ginger remarkably well. I was surprised that they didn't particularly taste like Chinese chicken wings, they were just delicious, in fact they were among the best wings I've ever had. They were certainly salty enough, and I'm willing to bet that the fully sauced version would have been inedibly salty, I'd definitely follow the authors low-sodium soy recommendation.
I absolutely believe that Metta Miller's original version of this recipe makes some fantastic wings, and the wings I managed to salvage from this debacle of a recipe were delightful. However the recipe itself is inexcusable. If I was in a more charitable mood I might have considered the potential of the recipe to be great, but I'm feeling spiteful. This recipe ruined one of my favorite baking sheets, and that's a transgression I'll not soon forget. If I'd continued to follow the recipe as written it would not have resulted in food, and there's only one possible rating for not-food. "La Brea Tar Pit" Chicken Wings have earned the first zero mushroom rating of the project.