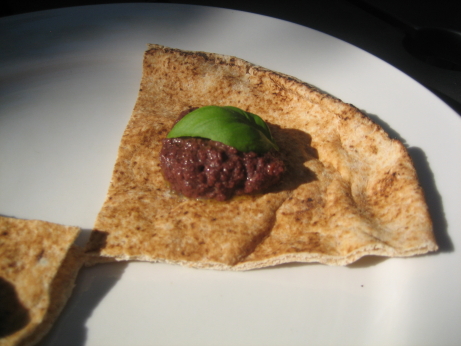 No recipe is online for this one.
I'm never sure what to do with tapenade. I like it, but it's far too salty to eat all on its own. I've used it as an accompaniment to grilled meats and fish, served it with cheese, spread it on sandwiches, or used it as an accent to hummus, but I'm never quite satisfied. It's been OK the couple of times dishes have called for it, but it's rarely something I would seek out. That's kind of odd because I love olives and eat them often. Most of the time, I'd rather just eat an olive than spread tapenade on something. Way back in the beginning of the project I wrote about the Olive and Eggplant Spread, which is like a tapenade, but cut with roasted eggplant. That was thoroughly enjoyable, and mild enough to eat without any accompaniment.
Although I'm not sure what to use it for, this tapenade was pretty good. The recipe is short and sweet, blend Kalamata olives, garlic, and capers, then add olive oil in a slow stream 'till it's smooth. The recipe calls for pitted olives, but I'm biased against them. Maybe it's just me being superstitious, but I feel like pitted olives are often of lower quality than the whole ones. Whether or not there's any basis to that, but I almost always buy whole olives and pit them myself.
This tapenade was all about bold flavours working together. The olives, garlic, and capers have very strong and distinctive flavours, but they're tied together by the fruity floral undertones they share. If any one of those flavours had been missing the dish would have fallen apart. Unfortunately this tapenade was insanely salty, all tapenades are salty, but this went further. It could have been my olives, but more than likely it was the capers. I really enjoyed the extra flavour the capers brought to the tapenade, but it would have been nice if they'd come without the salt. It's one of the things that bothers me about tapenade in general. The things is tastes best with, often tend to be salty themselves, and that can push the salt quotient past pleasure into revulsion.
On the day I made this I served it with hummus, cheese, and a few other dips. It was fine, and people ate a fair amount of it, but it wasn't the star of the show by any means. I used a bit of the leftovers with some grilled chicken, but left most of it on my plate. The rest mouldered in the fridge 'till we had to throw it out. Other than the salt there was absolutely nothing wrong with this tapenade, and a lot of things right about it. But, it just didn't appeal to me all that much.